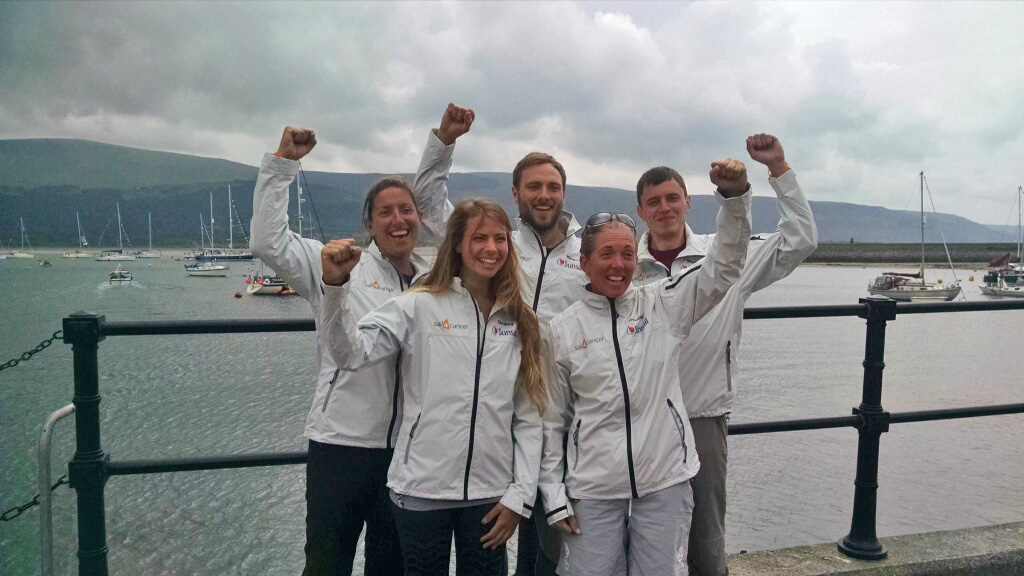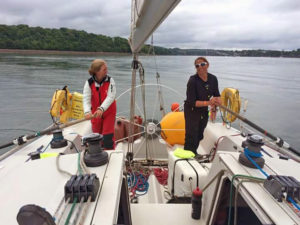 The Three Peaks Yacht Race is unlike any other yacht race you may encounter. In fact it is so much more than a yacht race, in total, the team of five must sail 389 miles, climb 11.176ft, run 72 miles and cycle 36 miles. The start is from Barmouth setting sail to Caernarfon in Wales where two team members are put ashore to scale the heights of Snowden, the highest peak in Wales. From there the boats set off to Whitehaven in Cumbria, England often via the narrow Menai Straits. It is a tidal harbour and the team of two runners cycle inshore before summiting Scafell Pike and then cycling back to the boats. Finally, it is the long sailing leg to Fort William in Scotland before the final mountain of Ben Nevis is conquered by the runners. The race is ranked amongst the 10 most difficult endurance races in the world, alongside the Marathon des Sables and the New Zealand Coast to Coast. I was delighted to lead the Sail 4 Cancer Team this year in the 39th edition of the event but it was tough, much tougher than I expected I think. There is a reason the salty old seadogs do so well in this race, there are little tricks and secrets all along this coastline and experience pays dividends. I was most definitely a rookie in this event, but I loved it.
I would be fibbing if I said I loved it all, I went to some dark places at times but overall, the challenge is immense. I had a great team of people around me and we enjoyed our few days. Libby Greenhalgh had the pressure of the navigation on this race. The area is fraught with hazards. There are ripping tides to manage, shallows, rocks, katabatic winds and calm patches. Libby and I definitely had to be on the same page for this event. We had to agree how far to push depth in places so neither of us showed panic and to do this race you need to trust. You need to trust your navigator, the charts, the instruments and deal with things as they come. For someone who spends most of their time offshore this was a real eye opener. Luckily for us as a rookie team we faced many of the treacherous areas in day light and in light winds.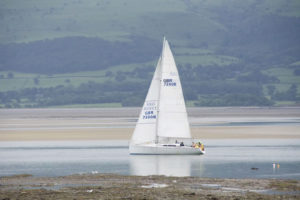 My runners came from a variety of backgrounds. The Sail 4 Cancer Team worked on the basis of having 3 runners, so we could cover for any illness or injury. The extra runner could then assist Libby and I sailing the boat. Matt Hinge ran Snowden and then became the part of the sailing team. Traharn Chidley, an endurance athlete, took on Scafell Pike and Ben Nevis and finally Rob Barnes, an ultra-runner, faced leading the team on all three mountains. He had sailed before so I was confident that he would cope with his recovery while the boat was sailing.
The aim for the team was to raise funds and awareness for the charity Sail 4 Cancer. I am proud to be an ambassador for the charity, so to face a challenge for this great cause was a pleasure and after all, the discomfort we would face was nothing compared to what those families and individuals suffering from the effects of cancer experience.
The one facet of this race that sets it apart is the fact that you can row the yachts when the wind drops. In total we rowed 26 miles in leg 2 and this was my darkest time in the race. When we were sailing we could race properly and be competitive with the fleet, but we lost places rapidly when we rowed. I also kept forgetting we could row as it is not a normal thought process when I am racing. The secret is not to let the boat stop before you start rowing. It is much easier to keep the boat moving rather than break the inertia and start it off. We soon realised our magic number to deploy oars was 1.8 knots or less of boat speed. I now need to remember not to take this concept with me on other races.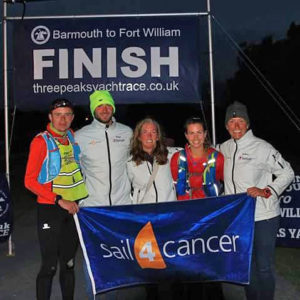 When asked if we would do the race again I had to admit that before we had even crossed the finish line we had addressed the different things we would need to consider if we were to race again. This was while we were short tacking against the tide in 40 knots of wind through Loch Linnhe. So I guess this could be considered unfinished business and an event I would love to return to in the future. Our 4th place finish gives us plenty of room for improvement. Next year is the 40th anniversary of the event and I can thoroughly recommend it as one of the greatest challenge you can face in an adventure race.
A race of this scale cannot be achieved without a huge amount of support from various people and businesses. Thank you to Lizette and Sail 4 Cancer, Steve and the well organised shore team making the logistics easy. Traharn's parents and Helen who were the best fan club ever. Thank you to Volvo Cars UK for the extremely comfortable XC90 making driving the length of the UK possible. Thanks also go to Runderwear, Sealskinz, Exposure Lights, Expedition Foods and Sunsail. Thank you for those that have supported and donated and for those that haven't yet, it is not too late.