An emotional Southern Ocean leg from Auckland to Itajai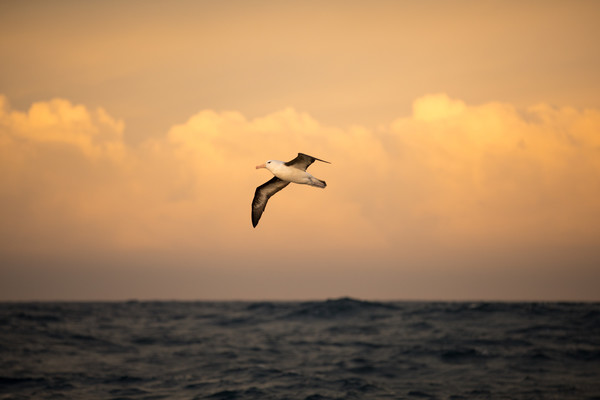 Our plan at the start was to keep it simple with no mistakes and then aim to stay with the fleet as we reached East Cape 24 hours later. We managed to executed this plan and this made life easy for the whole crew, including our tactician, Frederico. Without additional sail changes we were able to purely concentrate on boat speed as we headed out into strong upwind bouncy conditions. At this stage the fleet was tight, with us right in the middle.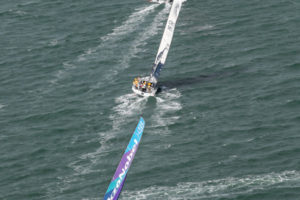 Upon reaching East Cape we cracked sheets to head south along with the rest of the fleet. We all had to sail around the edge of a high pressure system. Sailing too far to the east to cut the corner would mean lighter winds, too far to the west and we risked not getting the lift before reaching the ice gate. It was a balance that we managed to strike well and found ourselves at the front of the fleet setting the pace. The sun was shining but the temperature was dropping as we headed south rapidly.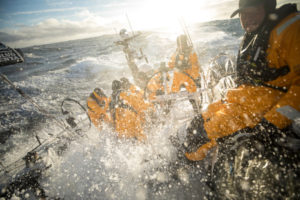 Before we knew it, we were down in the furious fifties but could still see the other boats. The sea state was great with a gentle swell building, the wind a steady 25 – 28 knots. Although I knew these good conditions wouldn't last, it was a quick trip south and a soft launch into the Southern Ocean.
As the sea state changed, we fell off the pace and lighter winds plagued us for around 24 hours. This was just ahead of the cold front that delivered more typical Southern Ocean conditions – grey skies, drizzle and strong winds. This arrived at the same time as we approached the ice exclusion zone and we had managed to claw back some miles, with two position reports showing us as the fastest boat in the fleet. Morale was high as we set up for the first gybe of many with two boats within our sights. With the exclusion zone to the south and lighter winds to the north, coupled with the fact that the further south you go the shorter the distance you sail, we had to decide how many gybes to do and when to do them in the ever increasing breeze. We played the middle ground and stayed to the south but doing fewer gybes than the routing software suggested, thus minimising risk and fatigue in the stronger winds. As it turned out this was a similar strategy taken by the rest of the fleet too so we were in good company.
Conditions on the boat had become more challenging. On deck it was similar to being on a submarine with huge amounts of water washing over the deck, so much so that we couldn't even see the instruments on the mast. The temperature was cold and the level of condensation dripping so much that it felt like it was raining down below. The bilges were filling with water and bailing was a constant requirement to manage our living conditions. The conditions dictated a certain pattern of behaviour – you came down below, removed head wear, gloves and lifejacket, sponged the bilge while you waited for your meal to hydrate, eat, removed wet weather gear and jumped into bed as fast as possible.
At this stage we had a medical issue which was a great concern to me. Liz really is the backbone of our crew and she suffered a crushing impact to her forearm whilst hanging on and having another crew member fall against her. It was difficult to tell if it was broken or not but the fact that Liz was tearful and happy to get into bed with some drugs spoke volumes to me. I managed to keep Liz below deck for about 24 hours but stopping her 'doing' is always tricky. While we were gybing she would gybe the chart table, sponge some water from the bilge and move some bedding.…all with just one hand. Knowing the conditions were going to deteriorate, I elected, with medical advice, to put her arm in a half cast to protect the wounded area. In Liz's mind this now made her invincible. I understood her frustration, these were conditions she relishes and yet she was restricted in what she could do, so we compromised and she promised to tell me when it hurt.
The new weather came and we set ourselves up gybing for the shift that came with the front. We were in good company, spending the morning with Dongfeng and the afternoon crossing gybes with Mapfre. The sea state was uncomfortable and messy and down below it was difficult to hold on. We ran a standby watch as the accelerated wind of the front passed through and this gybe was all about making the corner of the ice gate. We called the layline at 200 miles and were impressed we made it, enjoying the fact that we could sail in a straight line for a while before we had to gybe again. The exclusion zone had been moved south and this allowed us room to clear the worst of the weather from the inbound depression that was going to be with us all the way to the Horn.
The more settled but windy conditions enabled us to catch up on sleep during this time but it was at this point that we received the news that every sailor dreads. Tragedy had struck the Volvo Ocean Race fleet as SHK Scallywag reported a MOB that they had been unable to recover. The sad news that John Fisher had lost his life shook us all and was a harsh reminder of how hostile an environment the Southern Ocean can be. Our hearts went out to the team and family that had lost a loved one and for all of us that had lost a friend and supporter. The Albatross that are soaring above the waves are said to be spirits of sailors lost at sea. We all looked up to see that John was now keeping an eye on us as his spirit lives on in an Albatross, in an environment he loved, doing what he loved.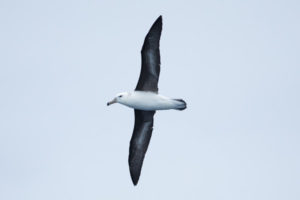 We reached as far south as 57 47.0S and then made a call. It was a 400 mile layline for Cape Horn and I swear I saw the entire crew break out into smiles when I told them this was as far south as we were going. The wind accelerated and headed us. We were closing Cape Horn fast and saw winds reach 50 knots. The waves were changing as we closed the continental shelf, becoming steeper with less runway. The movement was more violent and the wind was gusty as it rounded the coastline. Not only was land in sight, so was AkzoNobel. Brunel had sailed an excellent Southern Ocean, had good high average speeds and earned the well deserved point for rounding Cape Horn first. We were surfing big waves and living through our gusty conditions when we reached the southern most tip of South America. We were just 1.8 miles from the notorious landmark and visibility was clear with near perfect weather. It is rare that you experience Cape Horn so close or in such perfect conditions and the crew were elated. I watched them high five, back slap and grin from ear to ear. We had made it. We had conquered the Southern Ocean and this was our exit. I felt proud of my young team and delighted we had provided the opportunity for six sailors to become Cape Horners. I also felt immense relief that I had delivered the crew and boat safely through the south and that emotion became overwhelming as I realised just how much of a responsibility I was shouldering for all those miles.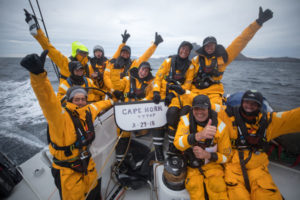 As we approached Cape Horn we also saw Mapfre come in to sight. We thought this was good news until we saw that they had ripped their mainsail in two pieces and were busy dropping it in the lee of the islands. While they were making plans to repair the sail we pushed on to a course taking us outside Staten Island and the Falklands. We were chasing AkzoNobel hard and were hungry to keep the fighting spirit we had shown in the South into the Atlantic as well. The first evening after Cape Horn delivered the most beautiful sunset we had seen in a while. The sky was on fire and we thought it a very fitting end to a spectacular day.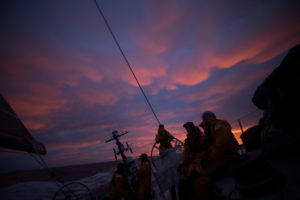 As we closed in on the Falkland Islands, the wind had lifted us and we were now reaching along. The winds were dropping and we were able to shake the first reef out to get a full mainsail. Then we had a shift and strong gust which was the final part of the gusty front going through. We were due to be in lighter breeze afterwards and were ready to change sails to the J0 and get going fast while the boats ahead were still in the frontal conditions. A chance to gain.
Once through the strong winds with the big shift, Liz looked up to see the rig was loose. The stays were flapping around – it was clear that we had an issue with our rig. A call for all hands on deck saw the crew muster to drop all the sails. We dropped the J1 on deck and dropped the mainsail to the third reef. We were fortunate that Liz had looked up when she did and seen the issue. What we did not realise at the time, was that Vestas had dropped their rig at exactly the same time. Weird coincidence!
Once we were safe and had secured the situation, it was time to identify problem and see what we could do about it. In the meantime, we continued sailing on a reduced sail plan because we were still on the race track and could still finish to secure some points. It would have been easy to give up but you don't sail through the Southern Ocean successfully to then give up without a fight. Liz went up the rig and found our issue to be that the spreader root of spreader 2, on the starboard side at the front, had unwound 20mm. With support and guidance from our shore team, the boatyard and Southern Spars we calculated the safest sail plan to go with while sailing and attempting to fix the issue. We had 24 hours before we would be in the light winds of a high pressure and when we would need to be on starboard gybe. The sad reality was that the slower we went now, the longer this leg would take by days. It was the difference between getting through the high pressure or being stuck in it and we were now looking at the latter option. Our chances of being able to fight for a podium position were gone, but we still had Mapfre behind us with a repaired mainsail and back on the race track, so the battle was on again.
For the next 24 hours we tried various solutions to no avail and pushed on with our reduced sail plan. We then had the chance we needed to attempt the two possible options we had to fix it at sea. We knew that if neither of them worked, it simply wasn't going to be repaired until we reached shore. A plan was made and executed by Liz. The grin on her face was visible from the deck and was a sure sign that the fix was working. It took time and some grunt but we eventually got the spreader root back to base settings and the rig straight. We waited to have it approved by Southern Spars before sailing at full power again. It was 1st April so we did double check that it wasn't some sort of elaborate April fool prank before breaking out the Easter eggs in celebration.
We were back in the game but lacked wind due to being engulfed by a high pressure. However, at least now we could put big sails up to try and keep moving and that is exactly what we did for two days. Beg, borrow and stealing any amount of breeze we could as we shniggled our way through the high pressure, desperately trying to head north to the new breeze. We had to sail smarter and faster than Mapfre. The high pressure had a cold wind but the sight of sunshine helped morale and made everyone feel better and more determined to fight to the end. We had been lucky and we needed to hang on to that luck as best we could. With each position report we were focussed on Mapfre and our goal was a simple one – we needed to reach Itajai before they did.
The final miles are always the hardest and with 450 miles to go, we had a 200 mile buffer between us and Mapfre. That said, we were not overly confident with the Auckland finish still fresh in our minds. Any amount of buffer is not enough with a red boat behind you, especially when light winds are forecast. At 100 miles to the finish we had increased the buffer to 320 miles and yet we still warily calculated the speed Mapfre would need to sail to overtake us. The potential for a shutdown of wind at the finish was real and therefore they were still a threat. At 50 miles to go we knew we could hold them off, Mapfre were 280 miles behind and, even if they were going faster, we had a good wind that wasn't forecast providing us with a really fast VMC to the finish line.
It was with great joy that we secured a 4th place, not only our best position to date but also on a leg that scores double points. The crew sailed the boat incredibly well, kept her on her feet, made prudent calls when needed and sailed a solid performance. We were in contention for the whole of the Southern Ocean and then fought back to overcome a set-back when we were in the South Atlantic. The crew has grown together in strength and confidence and have demonstrated resilience and tenacity. I am extremely proud of them all and they deserve praise for their achievements.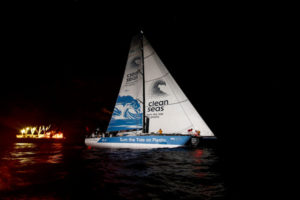 The Southern Ocean is a hostile relentless environment that holds no prisoners and they have overcome all that it threw at them. We all shared grief at the news of the loss of John Fisher. He was a friend to us all and we were determined to do him proud. Well done Team TTTOP!