the sponsorship opportunity
What are we offering?
Ocean racing sponsorship gives partners scope to create long term business strategies, building solid, lasting relationships with both the media and stakeholders. The returns are quantifiable. Time and again ocean racing proves to consistently deliver value for money as an effective marketing platform. The yacht becomes your brands' global billboard and the multitude of other activation channels around the campaign deliver engagement opportunities with your customers, staff and clients.
Sponsorship of an Ocean Racing campaign takes you and your guests from spectator to participant - allowing access to a money can't buy experience of sailing the ocean racing yacht in person and leaving your guests long lasting memories that they associate with your Company. It is an emotive sport that people engage with and follow across the globe.
Why choose Ocean Racing sponsorship as part of your marketing strategy?
In the current climate, we know that corporations need to ensure their marketing budgets are working hard for them. The professional, high profile sport of ocean racing presents a compelling and intelligent way of engaging people both within the organisation and external audiences. Each brand will have their own objectives for obtaining a sponsorship property, some key reasons are:
Creating a robust business development programme of interactive hospitality in key markets across the globe.
A human adventure story to be leveraged through media communications internationally.
Engage new audiences by activating a digital marketing campaign around the sponsorship, creating an online community and following for your brand.
Internal communications platform to galvanise a geographically disparate organisation.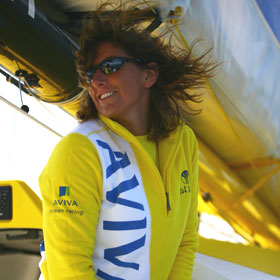 Team Caffari's commitment
to deliver
We develop close working relationships with our partners and are committed to delivering a successful campaign through race results and a wider programme of sponsor fulfilment.
Team Caffari ensures that the considerable experience within the team is used to maximise both sailing and commercial performance.
Previous campaigns have achieved every target set by our sponsors. Each project has been run to deadline, came in under budget and has offered significant return on investment and objectives.
"It's a superb achievement for Caffari and an incredible feather in the cap of a project created entirely from scratch barely two years ago."
Elaine Bunting of Yachting World magazine -
talking about the completion of the Vendée Globe.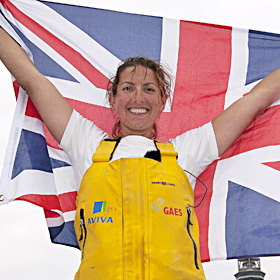 To discuss partnership opportunities surrounding Dee's next Ocean Racing Campaign please contact Jo Uffendell at jo@deecaffari.com or call +44 (0)7966 429260.
what's in it for your brand?
Naming rights to boat and team
The most tangible benefit of title sponsorship will be naming rights to the campaign and the dominant branding on the boat and team assets. The yacht acts as a powerful billboard carrying your brand and message around the world.

Branding on Dee Caffari and team clothing
The human face of corporate branding is represented by Dee and her team. Effective branding sites on all team clothing will be used to maximize exposure in the media. Team kit also offers merchandising opportunities.

Experiential sailing days
Sponsors have access to the ocean racing yacht for corporate sailing days, tours and media activities. Access this close in international sports is a rarity - guided tours and sailing aboard the race boat is a priceless experience for guests.

Team appearances
Dee and her team are fantastic brand ambassadors and role models, being equally comfortable addressing a room of CEO's in a corporate environment as they are engaging with children as part of an education programme.

Invitations to...
As spectator appeal increases, so does race village footfall. Offering the public a chance to engage in a variety of activities and interactive zones, the race village represents an excellent customer relationship marketing opportunity.

The Sailing Audience
80% ABC1 socio-economic audience (managerial positions)
Relatively even gender split male to female
Core demographic (72% of total) is aged between 24 - 55
Source: IFM/SMS October 2011