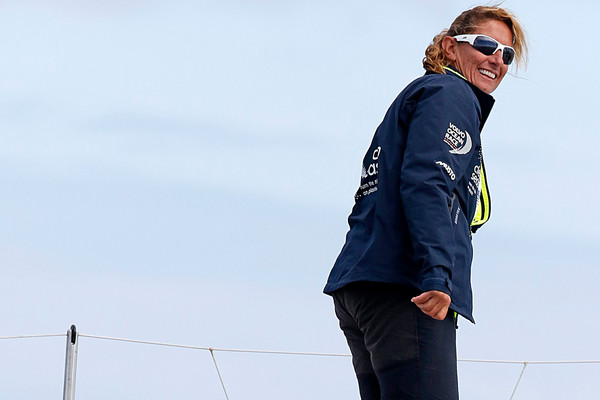 After the final two races, we have arrived in Cascais, Portugal and I have had a chance to reflect on the whole of Leg Zero. Thinking back to just ahead of Turn the Tide on Plastic's first competitive outing, I can admit to feeling nervous when we lined up against the rest of the fleet for the very first time. Not only was our crew not yet fully formed, the sailors onboard were young and inexperienced as a far as racing VOR65's goes. Many of the crews we were up against had a wealth of Volvo Ocean Race experience and I don't think I was the only one feeling a little anxious ahead of the Round the Island Race.
Ian Walker, winning skipper of last edition of the race, joined us onboard as a guest. That didn't help with the nerves initially but he was amazing and, in the three hours we were racing, he was able to speak to crew members and impart advice and tips that I know will really benefit them as they move forward in their Volvo Ocean Race journey.
With forecasted winds of 35 knots, we knew we were in for a fast ride and it certainly was a baptism of fire. The crew did a great job with very few errors made. The clean work and good tactical decisions delivered results and we overtook a couple of boats, finishing in fifth place. We all finished the race very close, with four of the fleet finishing inside of the existing record, however, Mapfre showed us all how it should be done by setting a new Round the Island Race record. Such a close finish for the whole fleet gave us a real confidence boost and, with lots to learn from, we moved on to the Rolex Fastnet.
The forecast for this iconic race could not have been more different. In stark contrast to the warm downwind sailing we had experienced a few days before, we were expecting a cold, upwind slog all the way to the Rock. The British summer weather did not disappoint! We experienced squalls and torrential rain, even on the downwind sections of the race.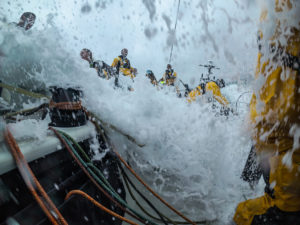 Weather aside, it was a tough start as we had to short tack and weave our way through the whole fleet of 380 boats as we exited through the Needles. Initially we were staying in touch with the fleet but we did lose some pace on the others along the South Coast. Having recognised this, we changed gear and progress improved such that we rounded the rock about an hour behind our closest race rival. On the upside we rounded in daylight so the landmark was visible to those onboard that had never seen it, on downside, we were in last place.
Determination set in and we made enough gains in the clouds and squalls that we encountered to claw our way up to fifth place by the time we reached Lands End. However, we made a poor sail choice just 20 miles from the finish and lost out to the other boats, which was frustrating to say the least. The whole fleet finished within 39 minutes of each other which shows just how close the racing is going to be round the world. Andrew McLean had joined us on board as coach and mentor and his knowledge, coupled with the lessons learnt from the mistakes we made, all help build up the experience for this young crew.
Rest was short and sweet in Plymouth ahead of our next challenge – a sprint across the channel to St Malo, France via the Needles. The forecast was very light and we saw a shut down at Prawle Point which resulted in some of the boats getting away, leaving us and Scallywag fighting the tide and going nowhere. Once we found some wind, we fought our way ahead of Scallywag to finish in front of them but, overall, we lost out on this leg with strong tides impeding our progress.
We had the weekend in St Malo and the French summer was a vast improvement on the British one. It was nice to take a step back from race mode for a few hours and take some guests out sailing. It's our version of R & R.
The final section of Leg Zero was set for departure on the Sunday but with very light winds and strong spring tides along a notoriously hazardous and rocky coastline, the decision was made to race for just a few hours to a certain point, motor to another point and then re-start racing from there.
We had a start plan which we executed well. We were not breaking any speed records but communication was much improved and the crew were gaining valuable knowledge. We were last and to leeward before we moved ourselves through to windward and overtook several boats to finish in fourth place just 22 seconds behind Dongfeng. This was a fantastic boost for the crew who were experiencing first hand that we could achieve the boat speeds needed to race competitively with our more experienced rivals.
This feel good factor helped take us through a cold night as we motored to the next start point. Not wanting to miss out on any learning opportunities, Liz Wardley had a chance to get a quick drone flying lesson in from our Onboard Reporter. Technology has progressed at quite a pace since my first round the world race some 13 years ago.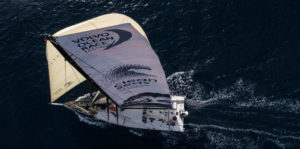 With the drone lesson completed, we were poised for a very specific start time slot of 0719hrs 07 seconds. We all started with the same time separation we had finished with the day before and were looking ahead to a blast across the Bay of Biscay. The water was flat, the temperature was rising and so was our boat speed. We managed to sail ourselves into the lead holding off all the other boats.
When we reached Finisterre we encountered some cloud action and, although we did well, we were definitely a little off the pace round the corner of Spain and lost some of our gains as the wind died. We battled light winds along the coast, desperately trying to stay in touch with the other boats, but we didn't perform well on this section and have come away with some key pointers for the future. We heard that the race would be shortened due to the light winds and everyone's timetable for other activity and initially finished in fifth place. Later came the news that Brunel were closer to Lisbon at the finish so our finish position was bumped to sixth place.
Overall, I was delighted with the progress we made on Leg Zero. We have had such a short amount of time together as a team, it is encouraging to see the dynamics working well and everyone pulling in the same direction. Staying with the fleet for much of the racing and doing better than everyone had anticipated means that the positivity levels are high.
Leg Zero has shone a light on areas that need improvement and we now have a much better idea of what we need to work towards to make the gains we all want to see. We are now based in Cascais until the start of the race in October, there is much to do and not much time in which to do it but we are focussed and determined to be the best we can be when we reach the start line in two months.
Keep up to date with news by following me on Twitter and Instagram
Main image credit: Pierre Contin