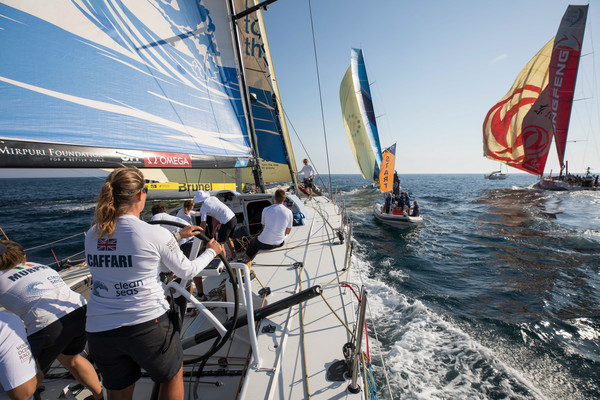 We arrived early this morning into Alicante after what was, at times, quite a frustrating Prologue race from Lisbon.
We were due to depart Lisbon 1300hrs on Sunday but the winds were so light that the start was delayed by a couple of hours as we all motored out to find some breeze. As the wind picked up and we finally had about 10 knots, we officially crossed the start line with Mapfre leading the fleet.
On Sunday night we rounded Cabo San Vincent in stronger downwind conditions only to be becalmed straight after the headland. The choice was to head offshore or inshore. We were too late when we arrived to go offshore and did not commit hard enough to go inshore but we stayed inside the group of the fleet we were with. Despite extreme light winds this option paid off and we gained places up the rankings.
With light winds and slow progress continuing throughout Monday, we were doing everything we could to pick up any zephyrs to get us moving.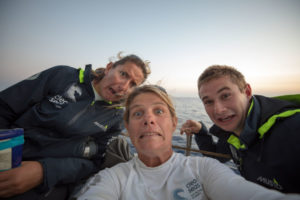 We held a 3rd place position for most of Tuesday which put us slap bang in the middle of the fleet, with Mapfre maintaining their lead and Team Brunel nipping at their heels. The Gibraltar straits delivered 30 knots of wind involving lots of tacking to avoid the traffic separation scheme and lots of sail changes. Confidence was high on Turn the Tide on Plastic after such a good day but we were in for a difficult night and lost the 15 mile advantage we had on the boats behind us.
On Wednesday morning as the lead boats were approximately two hours from the compulsory gate off Cabo de Gata we were advised by the Race Director that the course was being shortened and the gate was now going to be the finish line.
So as the sun rose and we saw Vestas and AkzoNobel either side of us, we knew it was gong to be a real race to the finish for the mid fleet boats. They were doing the same boat speed at the same angle as us so we used them as reference points to work against and learn from.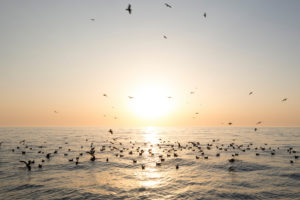 We talk about these races being learning experiences and we certainly had a big one as we headed for the finish line. We were all set up for a critical tack but forgot to drain ballast before we carried out the manoeuvre which resulted in us carrying an extra 600 litres of water to leeward and having to hand bail it out. Big mistake and hopefully not one we are going to repeat in the foreseeable future. Another error just close to the finish line had us delay our final sail change as we dealt with another surprise issue. Luckily it didn't have as much of an impact on our position as it could have done and we were delighted to cross the finish line in 4th place. I was really proud of the crew and our performance and, if the prologue is anything to go by, we are in contention.
We have come away with a great deal of confidence from this race. We are confident we have the boat speed and can find the boat speed when our set up is not right. We are willing to question and reset, an important learning curve in helping us identify how to go faster compared to the other boats.
Huge congratulations go to Mapfre for an excellent win and if the racing continues to be this close then we are in for an exciting few months ahead.
The event Race Village in Alicante is now open and a hive of activity as today is a public holiday. We may have to wait until after the weekend to check it all out as practice racing is scheduled for Friday ahead of the in-Port Race on Saturday and Pro Am on Sunday.
Keep up to date with news by following me on Twitter and Instagram
Volvo Ocean Race Prologue Leg – Positions and finishing times (UTC), 11 October
1. Mapfre; finished 09:49 UTC
2. Team Brunel; finished 10:06 UTC
3. Team AkzoNobel; finished 12:44 UTC
4. Turn the Tide on Plastic; finished 12:53 UTC
5. Vestas 11th Hour Racing; finished 12:59 UTC
6. Dongfeng Race Team; finished 13:09 UTC
7. Team Sun Hung Kai / Scallywag; 13:17 UTC