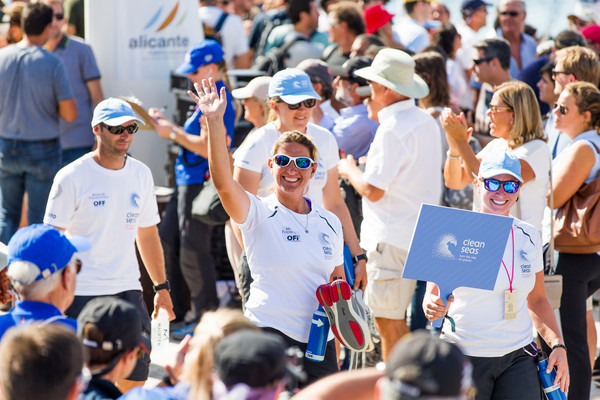 Ok Volvo Ocean Race 2017/18 – Team Turn The Tide on Plastic are coming, ready or not! Tomorrow is the start of Leg One and, after what has been a very short lead up for my team, we are lining up against some of the most talented and experienced offshore sailors on the planet. Would we have liked more time to prepare? Of course we would but however much prep time you have, you always feel you could benefit from more. Given the time constraints we had to work with, I am confident that we crammed in as much as we possibly could and now we need to get out there with the attitude and belief that we can put in a winning performance. I know we can and am incredibly proud of the whole team working on this project. Getting to the start line itself is a huge achievement and, as well as the squad of sailors, there are many people behind the scenes that have been absolutely key in preparing us for this race.
Once we cross the start line on Sunday we head out into the Mediterranean, round Porto Santo and on to our first stopover destination of Lisbon, Portugal. We should arrive sometime next weekend, ahead of the race village opening. At present the forecast is light but very changeable so we can't afford to make mistakes as they may cost us dearly.
Joining me onboard for Lego One will be Liz Wardley, Martin Stromberg, Nico Lunven, Lucas Chapman, Bleddyn Mon, Bernardo Freitas, Bianca Cook, Francesca Clapcich, Annalise Murphy and Jen Edney as our On Board Reporter.
Keep up to date with news by following me on Twitter and Instagram
The Volvo Ocean Race starts from Alicante on 22 October and will stop at Lisbon, Cape Town, Melbourne, Hong Kong, Guangzhou, Auckland, Itajaí, Newport, Cardiff and Gothenburg before a big finish in The Hague at the end of June 2018.
Follow the race here