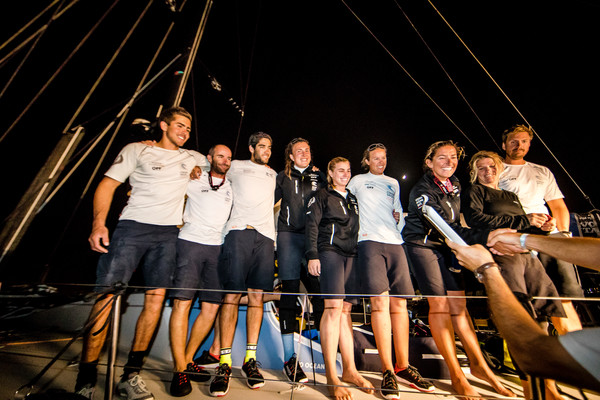 We left Alicante last Sunday with the Portuguese capital of Lisbon as our destination for Leg 1 of the Volvo Ocean Race. It was a relatively short but intense sprint which started with a great exit from the Mediterranean with lots of gybes and some fast furious downwind sailing. It was interesting how all the boats had different sail selections and we were able to make changes where possible to compare with some of our race rivals.
We split from everyone in the Mediterranean Sea only to converge together at the Gibraltar Straits but we had gained ground as we gybed out of the Med and were ahead of Scallywag, Brunel and Donfeng. With the helicopter overhead, we crossed gybes with Scallywag.
As we left the Straits, we made the decision to stay in stronger breeze which resulted in many gybes. We attempted a manoeuvre in the lighter breeze before heading back across, this probably cost us some distance but did ensure that we kept the boat and sailors in one piece!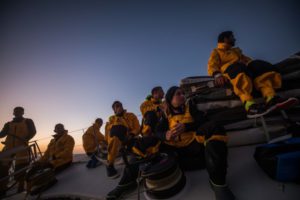 We then had decreasing pressure and a high pressure ridge to tackle. Ideally we wanted to go west but opted to stay amongst the pack of four. Those that pushed to the south made better gains and we ended up following the pack round Porto Santo Island at dawn. Then it was a case of straight line sailing with a focus on speed and angle which allowed the sailors to get some much needed rest after the busy night of gybes out of the Med.
From Porto Santo we sailed VMG downwind to the additional mark that was added to the course. We changed from the A3 to the MHO as we managed to claw back some ground and get close to Brunel but sadly Scallywag and Donfeng managed to get away from us. At this stage, the front of the pack were nearly 40 miles ahead and it was a case of the rich getting richer, with the rest of us suffering.
From the new waypoint, we were looking for the next shift, about 200 miles away, as we managed a slight ridge of pressure. We sailed alongside Brunel all the way but were still unable to make ground on the others. What we did have was effectively 400 miles of perfect two boat testing, something that both teams will have benefitted from and something neither team had time for during the build up to the race. We tried different sail combinations realising that they produced the same speed and have gleaned a great deal of valuable information that we can use on the next leg.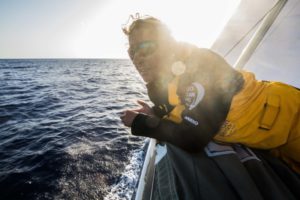 Our approach to Lisbon was our last chance to strike and it was a frustratingly close finish. Just 24 hours before we had been ahead of Brunel and now we were just 0.6 miles behind. As we approached the finish we knew the wind was going to disappear and we would be floating up the river. There was a certain amount of luck involved at this stage and we did manage to reduce the deficit. It came down to a nail biting final few minutes and although the end result is not what we wanted as a team, we were content to have been racing in sight of our race rivals for the whole leg. With everything that we have learnt on this leg, I feel sure our time will come…sooner rather than later.
Looking at the leg overall, we saw some great racing. Vestas were on fire and put in a great performance. At one stage their advantage was as much as 60 miles but that still meant that the fleet were only separated by a few hours after 1650 miles of racing.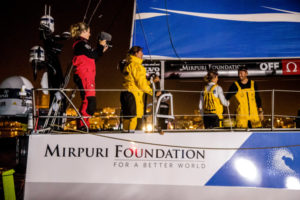 It has been an exciting start and we are feeling confident ahead of the next leg. For some of my sailors, the last six days has been the longest period of time they have spent at sea. With Leg 2 stretching to 7000 miles, we will be racing for nearly three weeks which will be a significant change for many of them. Inevitably some will find it easier to adapt than others but we are a strong team so we shall just have to see what we can achieve as we make our way down to Cape Town.
Leg 1 – Results – Saturday 28 October (Day 7)
1. Vestas 11th Hour Racing — FINISHED — 14:08.45 UTC
2. MAPFRE — FINISHED — 16:42.30 UTC
3. Dongfeng Race Team — FINISHED — 16:57:48 UTC
4. team AkzoNobel — FINISHED — 18:11:56 UTC
5. Sun Hung Kai/Scallywag — FINISHED — 18:57:44 UTC
6. Team Brunel — FINISHED — 20:29:00 UTC
7. Turn the Tide on Plastic – FINISHED – 20:36:52 UTC
Keep up to date with news by following me on Twitter and Instagram
The Volvo Ocean Race continues with the start of Leg 2 from Lisbon to Cape Town on Sunday 5th November with stopovers at Melbourne, Hong Kong, Guangzhou, Auckland, Itajaí, Newport, Cardiff and Gothenburg before a big finish in The Hague at the end of June 2018.
Follow the race here