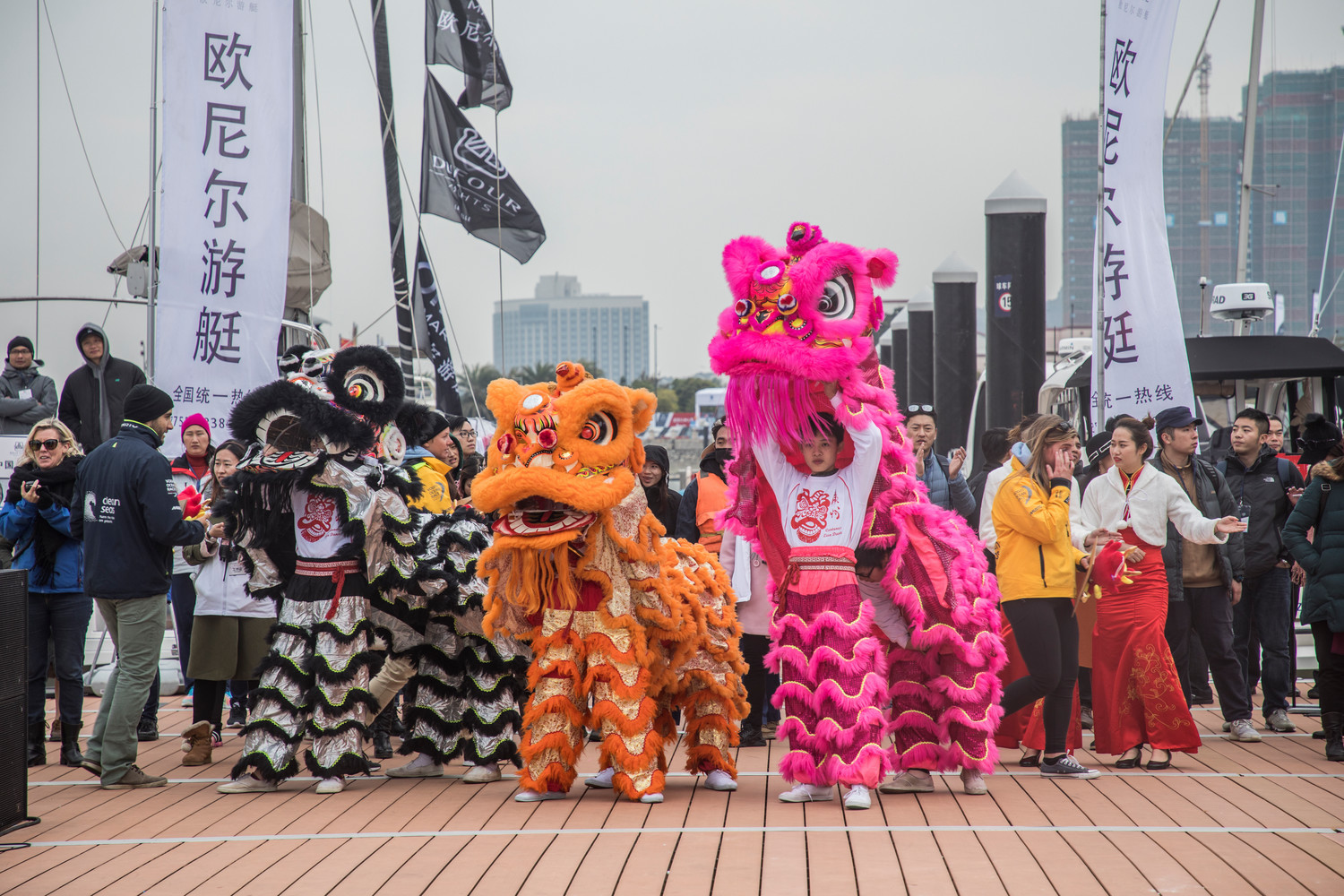 Hong Kong has been an amazing venue to visit. It is a bustling city, with a fusion of cultures and a very dramatic skyline to sail into. Although the weather has been cold (almost as cold as the Southern Ocean) we have received a very warm welcome from everyone.
The race village itself has played host to 12500 school aged children, who saw first hand the impact plastic is having on our oceans and the actions we can all take to make a difference. Educating and influencing young people is all the more important in a culture where sustainability is a relatively new concept and there are mixed attitudes towards it. Hong Kong currently has a very disposable culture and it will take time for habits to change and for society in general to adapt. Delivering these messages to school age children is vital as they are the generation that will need to make the changes required.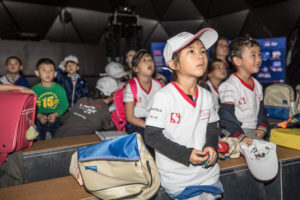 The in-port race was split between a traditional windward leeward race on a tricky race course with fickle winds and current, and a longer round the island race. The 25 mile course around Hong Kong island was picturesque and tough in equal measures. Although we were off to a slow start with a light breeze, we were fast enough to join Scallywag and Brunel in crossing the start line early. Having restarted, we then wiggled our way back into third place, on top of Dongfeng, before we left the channel. As we rounded the eastern end of the island the wind shut down completely and a new wind came from the north west. Mapfre were clear ahead and then Dongfeng found the new breeze. We struggled to get clear of a bay while the others sailed around us and were last to reach the new fresh breeze. We could never have made up the lost ground and it was a disappointing finish to a great start.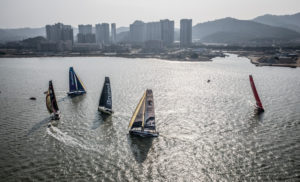 Leg 5 was a motor up the river with pilot escorts to Guangzhou, the flower city in China. Leaving at 0200hrs and motoring, it was a bitterly cold journey but we were treated to the Hong Kong skyline by night which was really impressive. China provided us with a special welcome and I had the opportunity to speak at the Sustainability Forum hosted by Volvo Group whilst I was there. It was really interesting to be able to hear leading businesses speak about innovation, technology and sustainability in an environment where we all share the same goal.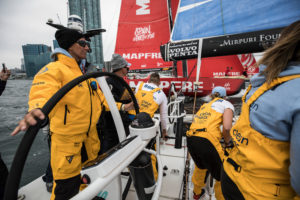 MAPFRE claimed podium position in the in port race on Saturday afternoon in Guangzhou and we crossed the line in fifth, ahead of Dongfeng. Having delivered guest experience racing in ProAm races, we then headed back down the river to Hong Kong for a final good sleep and feed before we depart for Auckland on Leg 6. We have had a great stopover in Hong Kong but are very much looking forward to heading offshore again. This leg will be different in the fact that much of this leg will see the wind forward of the beam which is not the case for any other leg in the race. It is also one of the longer legs with an estimated 20 days at sea before we reach the City of Sails, Auckland. We have the same level of complexity as we did in Leg 4, just in reverse. So it's more islands, atolls and reefs to avoid and the dreaded doldrums to cross….again. We really hope to have better luck with the clouds this time though.
Having experienced such cold weather in Asia, the anticipated warmth from Southern Hemisphere sunshine on this leg will be very welcome. I am sure I will need reminding of that when I start to complain about the extreme heat – why are us sailors never happy?!
We have a few crew changes for the next leg as some of the team take a well earned rest. We will miss Martin, who is taking a break, but looking forward to Nico Lunven joining us again. Frederico Melo and Bleddyn Mon also take a break as Lucas Chapman and Henry Bomby return to the fold.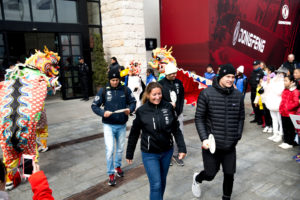 What we do hope is that Turn The Tide On Plastic moves up the leader board to challenge the front runners, as we did on the last leg. This time we need to deliver when it counts – at the finish line in New Zealand!
Crew List;
Dee Caffari GBR
Liz Wardely AUS
Nico Lunven FRA
Brian Thompson GBR
Annalise Murphy IRL
Bianca Cook NZL
Francesca Clapcich ITA
Bernardo Freitas POR
Henry Bomby GBR
Lucas Chapman AUS
Onboard Reporter James Blake NZL/GBR
Keep up to date with news by following me on Twitter and Instagram
The Volvo Ocean Race Leg 6 departs Hong Kong on Wednesday 7th February with stopovers at Auckland, Itajaí, Newport, Cardiff and Gothenburg before a big finish in The Hague at the end of June 2018. 
Follow the race here