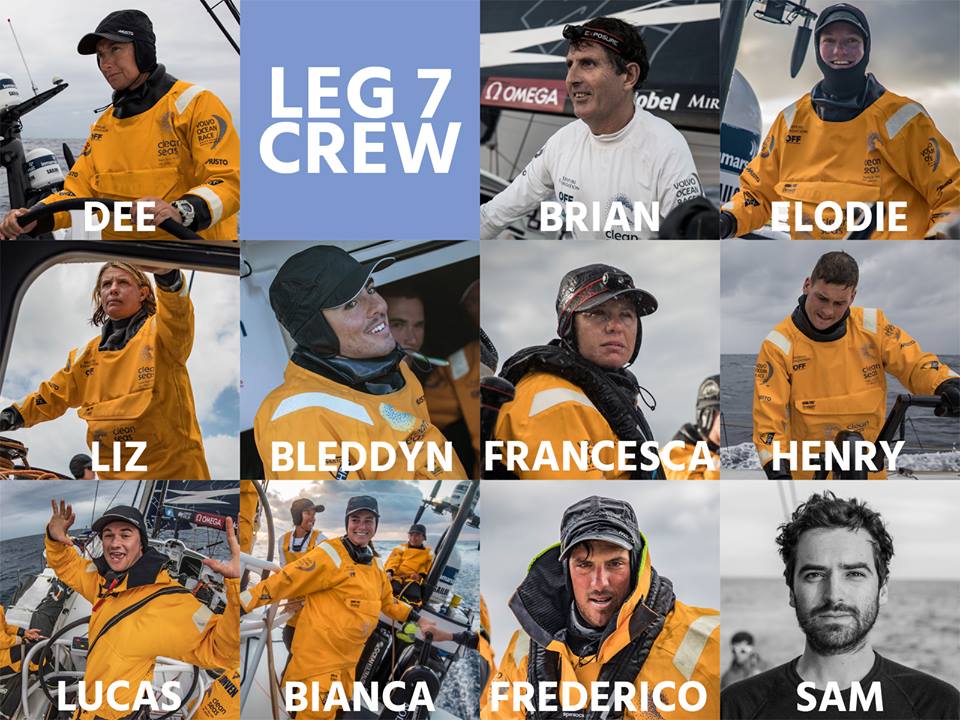 On Sunday, we set off on what is generally regarded as the 'big leg'. Our Volvo Ocean Race journey will take us round the notorious landmark of Cape Horn, a special and unique place for any sailor and a new experience for many of our crew as we head back into the Southern Ocean for Leg 7.
This edition of the race gave us a sneak preview of the Southern Ocean during Leg 3 and members of the crew that were relatively new to offshore sailing conditions now know what we are likely to expect. What we know for sure is how cold, wet and windy it can be as this part of the race takes us the furthest south we will go during this race.
Looking ahead at the weather, it appears that we will experience strong upwind conditions as we leave Auckland and the temperature will gradually drop seeing the water temperature move from 21 degrees down to 5 degrees at its lowest.
Several days into this leg we reach the ice gate, marking an exclusion zone that keeps us well away from any ice that has been detected. We then travel as close to this ice exclusion zone as possible because the further south you are, the shorter the distance covered.
As is the nature of this leg, we will inevitably get a battering from some strong winds as part of a large depression before we reach Cape Horn. It is in these conditions that there is a balance to be struck between racing and pushing hard when the conditions allow and keeping the sailors and boat in one piece, so we get to the end of the leg. As they say, you have to be in it to win it!
Once we round Cape Horn there will still be a third of the leg to go before we get to Itajai and, at this stage, we will have to make a tactical decision as to whether we sail inside La Maire Straits or round the outside. As the Falkland Islands emerge in our path we will tackle an increased amount of fishing vessels and traffic. On the last edition of the race we encountered a great many sharks and sunfish, so wildlife will be a strong consideration when we are sailing.
On our final approach to Itajai, we will sail along the coast and the temperature will increase. In any event we always receive a very warm welcome when we reach Itajai – it's warm sunshine, beaches and Caipirinhas all the way.
As much as the sailors may hate it and feel uncomfortable at the time, they will also look back and love it. Some of the best sailing they can ever do will be in the Southern Pacific Ocean and there is such a sense of achievement when you work with the extreme elements to get the best performance from your boat. Personally, I love it there, and am looking forward to my sixth trip round the Horn.
Crew list;
Dee GB (roundings of Cape Horn – 5)
Liz AUS (roundings of Cape Horn – 2)
Brian GB (roundings of Cape Horn – 4)
Elodie SWS (roundings of Cape Horn – 1)
Lucas AUS
Bianca NZ
Henry GB
Francesca ITA
Frederico POR
Bleddyn WAL
Keep up to date with news by following me on Twitter and Instagram
The Volvo Ocean Race Leg 7 departs Auckland on Sunday 18th March with stopovers at Itajaí, Newport, Cardiff and Gothenburg before a big finish in The Hague at the end of June 2018. 
Follow the race here