Leg 8 – Itajai to Newport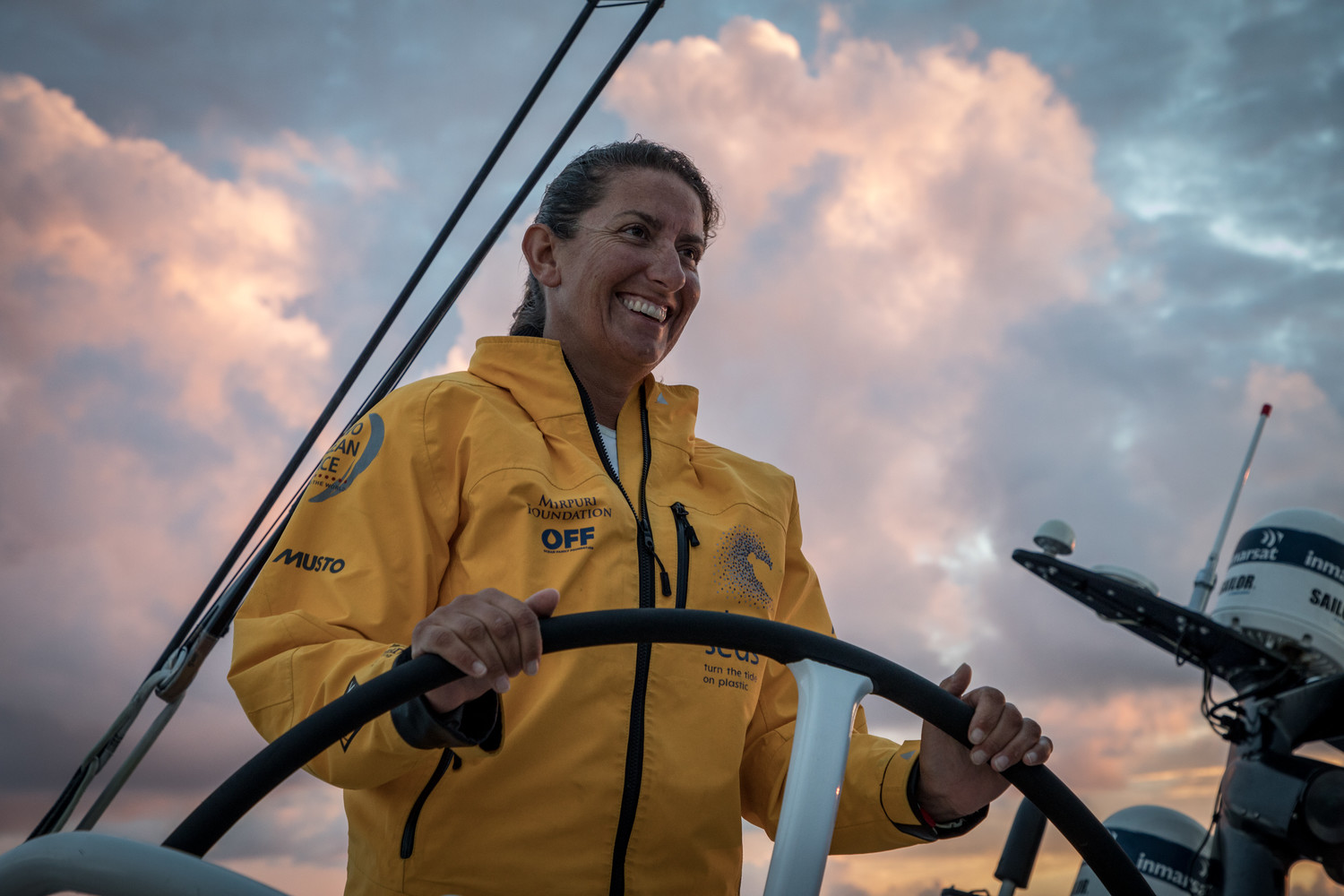 We had a great start from Itajai, the sun was shining, and the promised sea breeze filled in making the in port section a good battle before we sailed off over the horizon to cover the 5000 plus miles to Newport.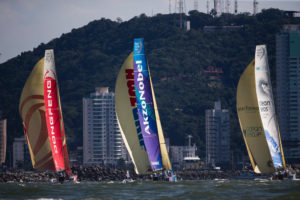 As a team we were sad to leave our newest recruit, 'Snoop'. We had rescued this little puppy, probably no more than 8 weeks old, from next to the race village. He had been abandoned and our shore team came to the rescue. They bathed him, cleaned him up, fed him and loved him until he was quite the feature around the race village. This tale gets even better, as the boys (Snoop's proud guardians) also managed to find him a loving new home before we left. Snoop waved us off at the dock with our new song, changed in his honour, playing in the background before he started life with his new family.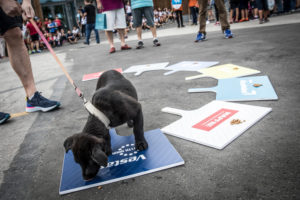 Snoop must have been our lucky charm as not only had we claimed our best result yet on an in port race earlier that week, we were also having a great battle at the front end of the fleet in the opening section of the leg. We had to race a sausage and triangle course; we made a plan and executed it simply which saw us battling at the marks with the first three boats. We left the leaving gate in the top four boats and remained there for the rest of day one. In fact the entire fleet headed east offshore together and remained in sight for the first couple of days, all choosing the same shifts to tack on.
We sailed upwind until Wednesday night, all tacking on the same shifts and with a similar plan. We made gains to the East while it was easy to do so before heading north towards our destination. The wind was a little up and down and shifty in direction which caused us to constantly change the sail plan. At this stage it was only cloud activity that changed our placings as we would all head into a big black cloud, deal with the shifts and pressure difference in the rain and then emerge the other side to see who we still had visuals on. More often than not, we had to wait for the next position report to see where everyone was. Finally we committed to the starboard tack and, on the routing, this looked to be us nearly all the way to Newport!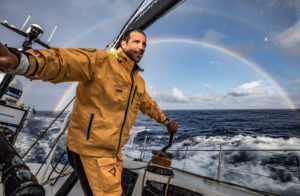 By Thursday we had been lifted on starboard and were able to ease the sheets and sail faster, reaching towards Cabo Branco, the most eastern point of Brazil, the corner we had to round. More and more thunder squalls and activity came rolling over us and we spent most of Thursday night in the pouring rain dealing with difficult conditions forcing the crew to stay up all night making sail changes to leverage any speed in the right direction. We lost a few miles during the night which was really frustrating after the hard work we had put in, but we were still in front… just. By being the most eastern boat, we had better breeze forecast, but we would also sail more miles, meaning we had to be careful not to go too far, but also make sure we were sailing faster than the others to make this work to our advantage.
As we approached Cabo Branco there were two strategies available to us. Head north as fast as possible or gybe and play the corner effect. There is a strong current heading north and west at the corner and there is often a shift to be had if you stay inshore at the corner before heading out towards the doldrums. You can get a better lift earlier being the western boat at this stage. However, the more you read on the area the more conflicting arguments there are for what is best!
For us the wind was much more lifted, so gybing along the coast made sense. We played in the stronger band of current and found we had company. Vestas and Dongfeng were gybing with us which gave us a new focus…to identify what they were doing behind us. Although we had a strategy we also had new weather suggesting the corner was favourable and we had two boats gybing which convinced us we were on the best route. By daylight we found ourselves in a group of four, Brunel had joined the party and were not holding back. They had made huge gains and were now sailing with us on a massive shift along the coast heading North West. Once one boat gybed, we all went and started to head north to face our next challenge, the equator and then the doldrums. Once we had crossed this tricky area we would meet the North East trade winds and be speeding our way towards Newport.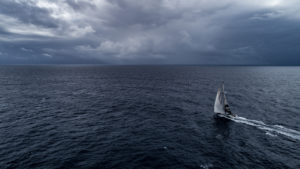 The area we now had to cross was covered in cloud with lots of cell activity amongst it. This activity often came with an increase in pressure, plenty of rain and some big shifts. It did mean we all had a decent shower and smelt all the better for it too. We lost Dongfeng in the first cloud and the next position report allowed us to see where everyone was now that we had cleared the corner. The red boats were the interesting ones as they are usually locked in battle within sight of each other, however, this time they had adopted opposing strategies that positioned them on either side of the fleet.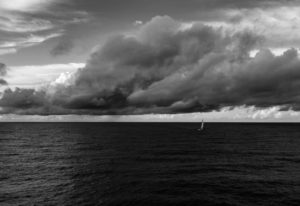 Over the course of the day we lost our hold on Vestas but managed to keep Brunel in sight. We had another 20 hours of tricky cloud and doldrums activity before we would be free and in the northern hemisphere trade winds. At this time of year, positioned where we were, we felt confident the doldrums would be pretty inactive, however, the satellite picture told a different story and showed plenty of cloud to manage before we would be free.
It took a whole afternoon and evening before we found consistent breeze from a North East direction building in strength and providing us with the confidence that we had escaped the doldrums area and established ourselves in the North East trade winds. The cloud involved poor visibility, rain showers, drizzle, differences in pressure and wind direction. Our tenacity paid off as we found ourselves out and clear, with Brunel taking a slight advantage but leaving Vestas behind.
Now we were able to ease the sheets and go full throttle towards Newport. The routing takes a curve which heads towards the Caribbean before lifting to the North as we go around the outside of the high pressure system dominating the central Atlantic. The next few days is a procession, with everyone following the same track in the same trade winds. There will be a slight shift in heading from day to night but otherwise we were in for a few Groundhog Days. Good, fast, easy miles provided you can stay on the pace and keep up with the fleet. The only challenge is managing the sargassum weed which can get stuck on the foils. Going fast makes this less of an issue, however, the deck still gets covered in it.
At this point in the race we saw how costly a bad decision can be. We were in between sails on the crossover chart and felt we should opt for the bigger sail in the air. We made the change, slowing down to carry it out more quickly and safely. This new sail was good for a while, but then we needed to go back to the other sail again resulting in another slow down. With these changes, together with a cloud with light winds for a couple of hours, we had suddenly lost a lot of ground between just two position reports. Now we had made a change we believed in, we focussed on just going fast. Every decimal of boat speed counts when you are part of such a closely matched fleet and every boat is pushing hard in the same conditions.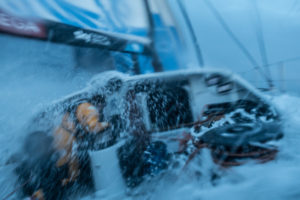 We held the fleet for a few position reports and then had three slow reports on the bounce relative to the other boats. Frustration levels rose as we were seeing more and more cloud activity bringing with it big shifts and variations in pressure whilst wondering what clouds the other boats are experiencing.
As we rounded the high pressure towards Bermuda, before gybing, the wind drops and should drop more for the inside boats then the outside boats. At this stage we had yet to see that happen. In fact we had managed a better position report being faster than Brunel and Dongfeng only to see all those on the inside of us were going faster. Frustration was our constant companion as we lost miles to boats at different times. Although this was disheartening we were starting to see a trend in not being the slowest all the time which we put down to being more consistent.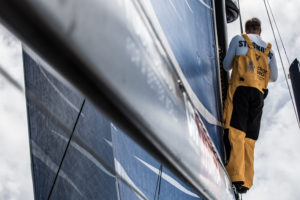 We were just 10 hours out from the gybe at Bermuda, knowing that we had a busy final 700 miles to go. We had a depression with strong winds building which we needed to pass travelling along the Gulf Stream, followed by a trough of light airs before we got to reach into the finish. We knew these transitions were opportunities for catching up some miles and our game faces were on.
The windy stuff was a blast back to the Southern Ocean but with much warmer water. The night was dark and the waves made the sea state very difficult to anticipate. We were not as lifted as we thought we would be, so sailed a VMG course to try and go fast for the six hours it would last. A few hours in, we heard a loud noise and all rushed on deck to see that the MH0 sheet had snapped. Luckily, we run with a safety sheet and this was soon in use and we were back up and running again. The sea state then worsened and we decided to furl and run with just the J2. Hindsight is a wonderful thing and we can now argue that we stayed on the wrong sail as we thought the wind was going to do something else, rather than sail with what we had and risk two sail changes. We sailed a little higher and, as a result, lost a few miles but the fun and games were just about to begin.
Literally, within the space of an hour we were back on the MH0, with the stack forwards in wind of less than 8 knots. We had reached the trough and the wind had died. Now the opportunities started so long as those ahead were still in the light pressure. We nursed the boat forwards in the best direction we could while 5 knots of Gulf Stream was trying to force us north and then east. We went into some fog and wind was at the top of the rig, according to the instruments, but not seen by us on the water. We found clear skies and progressed several times as the water temperature dropped to 10 degrees. The thermals and warm hats were dusted off and back in use as we all lamented the warmth of Brazil.
The position report came in and was good. We had closed the gap and everyone was struggling in the light airs. We now had a reach and a light wind finish with everything still to play for. At 72 miles out we sailed onto the continental shelf and started to see lobster pots and fishing buoys around us as traffic increased and the wind started to drop. We had to make a decision on which side of the exclusion zone to take before we entered the bay to the finish. It was going to be light winds so we decided that light wind upwind was better than light wind downwind. We also thought it was a shorter distance. Vestas are considered locals and now they were 0.2 miles ahead of us in distance to the finish line on the other side of the exclusion zone.
We were all beset with light winds, thick fog and tricky tides as we neared the finish line and it resulted in a complete reshuffle of the fleet.
Mapfre played a blinder to take the big prize, followed closely by Team Brunel with Vestas completing the podium line up. We match raced AkzoNobel and they won the battle. We finished 6th, which was not what we expected and certainly not what we hoped for after such a positive and hard-fought leg. Once again, my crew and I will have to dig deep to come back fighting in the next leg.