Review of Leg 11 – Gothenburg to The Hague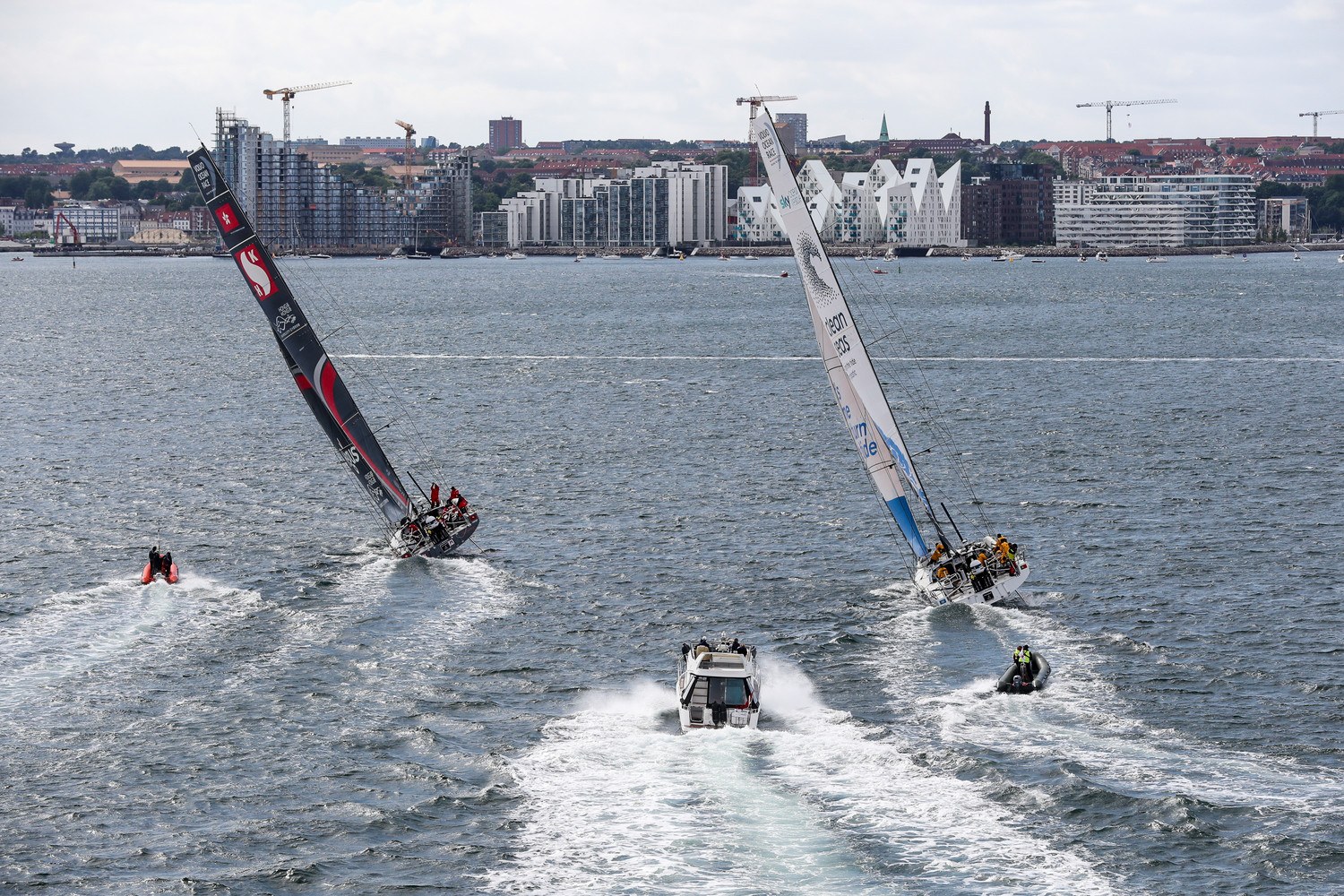 We left Gothenburg in good wind with a route down the channel, out to open sea and then headed for Norway. The leg was designed for us to do a flyby in Aarhus, Denmark after midday on Friday and then aim to arrive after midday on Sunday in the Hague. As a result, we had to sail a huge windward leeward course of 150 miles to Norway, then down to Denmark before sailing back up to Norway and onto the Hague.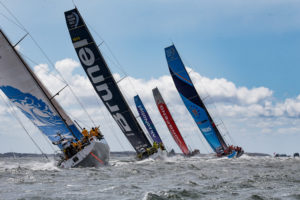 This slightly unusual route meant there were lots of manoeuvres and corners to turn and a great deal of action for the crew. Sleep was a luxury we couldn't afford and there was a constant need to wake people for a tack, gybe or sail change.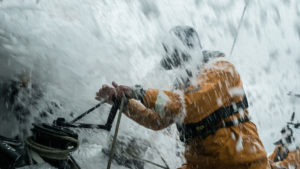 The weather had everything from 2 knots to 32 knots of breeze and we went upwind, downwind and reaching. The intensity of the leg was such that none of us took our boots or wet weather trousers off for the entire duration of this leg. We were delighted to have Dr Paulo Mirpuri on board with us as our VIP guest, and with the conditions, he had a true experience of life onboard at the extreme.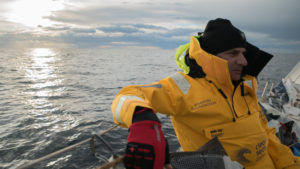 We started well and held onto the group, with all six boats in view for much of the time. As we reached the first turning mark in Norway we were able to see the fleet heading back from the mark just as we went into it and we rounded just ahead of Scallywag and only 3 miles from AkzoNobel and Brunel.
As you can imagine at this time of year, Norway has endless sun and no night time. Rounding at midnight we could see the sun set and then almost immediately rise again. I had sunglasses on while eating my breakfast at 0200hrs, which was a pretty weird state of affairs, and made me realise that with the super long days and eating this early, lunch was going to be a long way away.
We headed down to Denmark, downwind gybing with four boats in visual sight and the others on AIS and visible on the computer screen. We had a mark to round inside the harbour in tricky gusty conditions. We made a bit of a mess of our manoeuvres and Scallywag took full advantage by getting ahead of us at the mark rounding. As we headed back up towards Norway we had a chance to get back in front and managed to do exactly that but, when we arrived at the mark, we were left floundering in no wind. The only consolation was that the Scallywags were floundering with us. The breeze ahead allowed the others to pull away slightly but, once again as we started to sail towards the final destination and the ultimate VOR finish line in Den Haag, we were within 1.5 miles of the two boats ahead and had Scallywag breathing down our necks.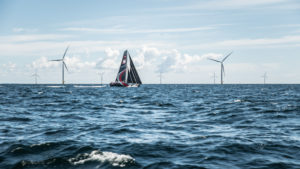 As we sailed past Denmark we had a number of wind farms to pass and a huge decision to make. At the end of the route we had three TSS (traffic separation schemes) to avoid and there was a choice to sail down the inside or take the outside route. When we left Gothenburg, there appeared to be a weather advantage to taking the inside track as it looked like being slightly quicker despite some initial losses. However, the risk was greater because, if there was any change to the conditions, the route was confined with limited options. The outside route was freer and appeared less risky but had the potential to take us closer to the high pressure which would result in light downwind with gybes to the finish.
We had a critical moment where we had run out of time to consider options and just had to commit. It was stressful for our navigator, Nico, but he made his choice and we followed through to find that Scallywag and Dongfeng were keeping us company on the inside route. Everyone else had taken the outside route and it was going to be interesting to see where we all ended up. At one stage we had lost 50 miles to the outside group and, although we had more breeze then we thought we would, so did the outside pack. As we wait for the position report to come in that would reveal all, we were nearly convinced we had made the better choice. We called it that Dongfeng were about to win the Volvo Ocean Race and could see them within 6 miles of us at one stage and as much as 11 miles at another. A visual on the winning boat had to be a good sign but we didn't know how close we would be to the others.
As the outside fleet gybed towards us, we were able to sail a great angle to the finish line and were delighted to discover we had stayed ahead of Scallywag with Vestas coming in behind us. Sadly, we were just too far behind Brunel to catch them up and so our focus turned to keeping ahead of our closest race rivals.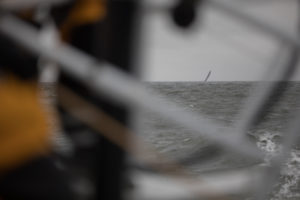 We desperately needed Vestas to be in front of Scallywag to get us above them in the overall leaderboard. Bizarrely, I was willing race rival Charlie and his team to sail faster but sadly my will power wasn't quite enough.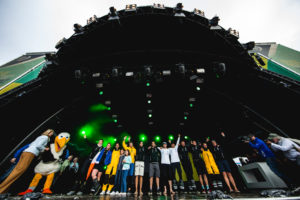 We finished in 5th place, a great result to end an awesome leg. Of the boats carrying a VIP guest, we were victorious and will cherish this small victory. We witnessed Dongfeng win the Volvo Ocean Race in style and, in a 'winner takes all' glory battle between three boats, the most consistent boat won. Well done to Charles and his team.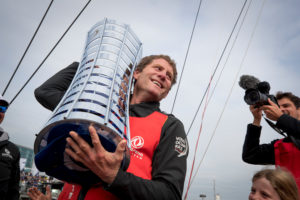 A sad and brutal blow to Mapfre who had been tough competition from the start but failed to hold on in the end. Also, a sad finish for Bouwe whose Team Brunel had come back with such strength from the halfway mark in the race with great speed and results. This was his 8th Volvo Ocean Race and sailing into his home port victorious would have been a fabulous end to the race, but sadly it was not to be. He was gracious in defeat and continues to inspire those around him. No doubt now he will just have to come back and do it all again!
As for us, well we are now tied on the overall leaderboard with Scallywag and look to the in-port race board where we are 3 points adrift. Saturday will be our final in-port race and we need to finish with two boats between us and Scallywag to lift ourselves out of the bottom position. Our team do like a challenge and we will do our level best to get the result I truly believe the crew of Turn the Tide on Plastic deserve.
Everything will be crossed by our supporters and friends until the finish line appears and the result will be settled for the final time in this edition of the Volvo Ocean Race.