Talking and taking sustainability seriously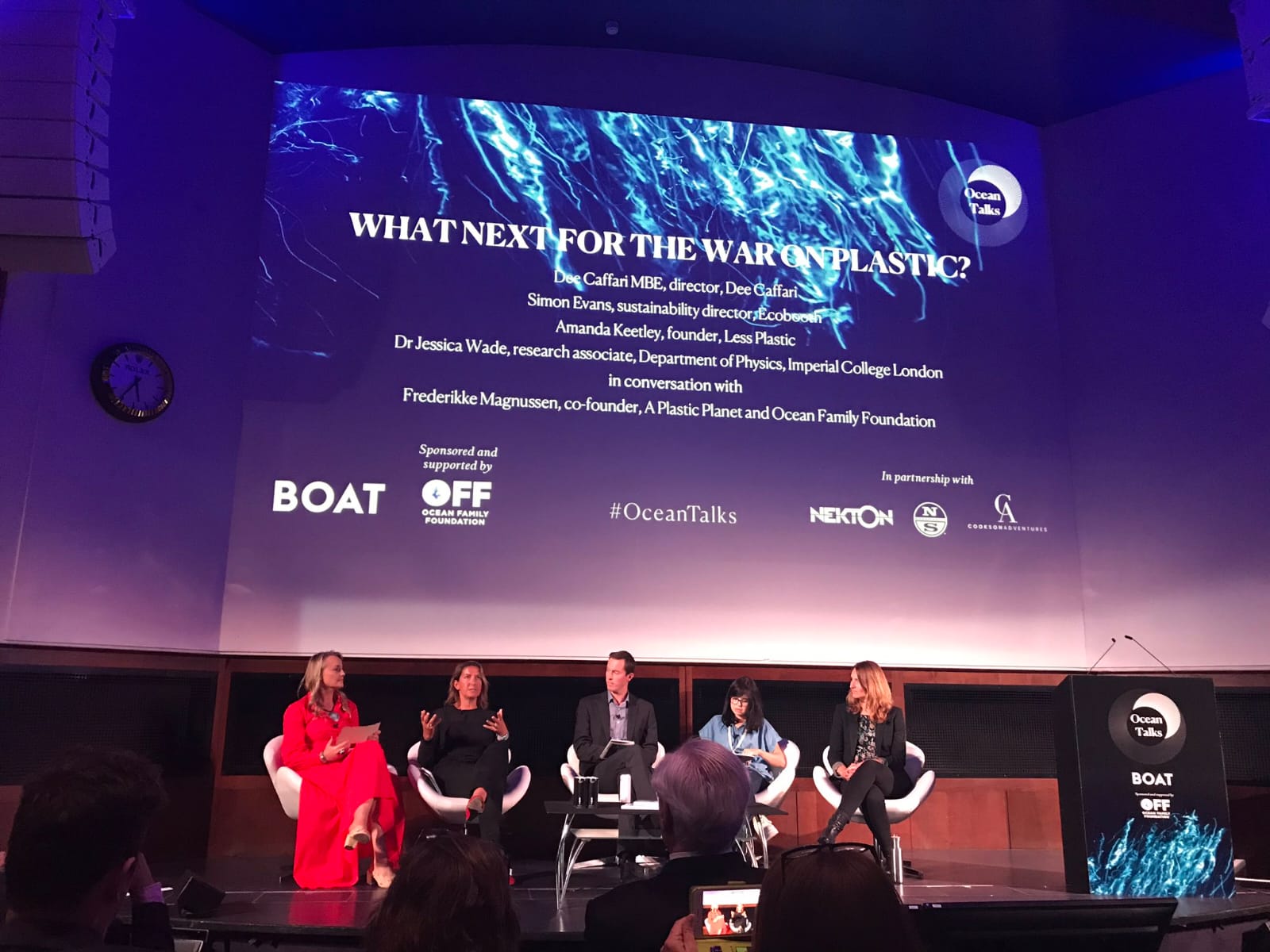 June has been a luxury as I have been mainly UK based, allowing me to spend time with my four legged friend and catch up with friends and family.
Earlier in the month I joined BOAT International for their Ocean Talks held at the Royal Geographical Society in London. Supported by Ocean Family Foundation and North Sails, these events are aimed at encouraging the yachting community to engage more meaningfully with specialists working in marine conservation. As well as inspirational and educational talks, this year Ocean Talks pledged to connect scientists requiring access to yachts, with yacht owners that would be happy to host them or their equipment.
I joined the final panel of the day to discuss what was next for the war on plastic with Frederikke Magnussen, Co-founder of A Plastic Planet, Simon Evans, Sustainability Director from Ecobooth, Amanda Keetley, Founder of Less Plastic and Dr Jessica Wade, a Research Associate at Imperial College London.During the afternoon a great many topics relating to the health of our oceans were covered by the experts on hand and, regardless of whether you are a pessimist or an optimist, the balance is precarious. The scientific research that is available ensures we are backing up views and opinions with truth and data. Check this out for a review of the day
I was then invited to join the RNLI in Newcastle who have been working in collaboration with the University of Newcastle and Lloyds Register on an engineering project to extend the life of one of the class of all-weather lifeboat. Closely following the principles of sustainability at the heart of a circular economy, this scientific study is based around keeping the vessel safe and practical for its needs and usage. The research is looking at wave impact, length of life of various operating systems and this research will, over time, filter down to everyday boat use. I joinedPhil Kite talking about his Atlantic rowing success as part of Team Tyne Innovation, Holly Phillips (RNLI) and Simon Benson (Newcastle University) discussing the collaborative engineering project and the findings that will not only help the RNLI with life extension plans for their fleet but also enhance the design of search and rescue vessels going forwards.
As the month came to a close, I had several speaking engagements across Europe. The talks were on some of my favourite topics such as leadership, how to get the best out the people around you, sustainability and ocean health. I was thrilled to be invited to join an event called the Circular Initiative in Sweden. Accepting that we need to take better care of our resources, some of the brightest minds within Swedish manufacturing industries came together to re-think collaboration and embrace new technologies – the idea being to create common goals and develop a concrete action plan to take forwards. It is reassuring to know that big name industries are willing to work together, and this initiative seems years ahead of action being taken in the UK. I was excited to be part of this inaugural event and will follow closely what evolves from the discussions held over the course of the day. I feel sure this initiative will grow in popularity because, today, if you are not thinking about the future, not worried about it, not trying to make changes for the better then it is too late. https://circularinitiative.com/