Double handed sailing success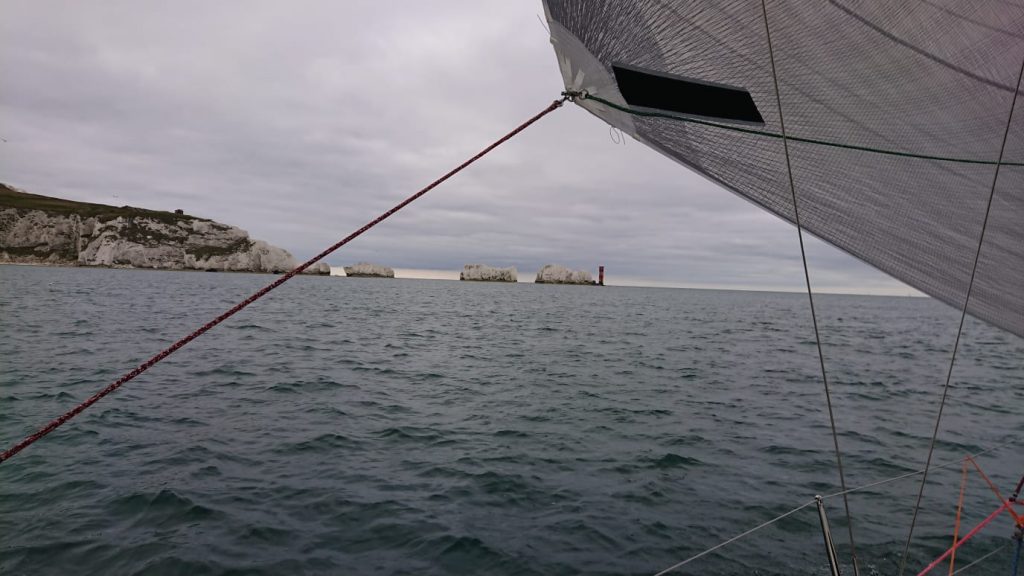 My recent sailing around the Solent has provided a much needed sense of freedom after the last few months of restrictions. As much as it has been great fun, it was not entirely without purpose. The underlying aim was to improve manoeuvres and gain an understanding of how to set the boat up more quickly and to better effect so that this could all be put into practise during a race.
As luck would have it and after two weekends finding my feet as part of a double handed crew, I found myself entered into the JOG Lonely Tower Race. As one of the first races to take place since the pandemic took hold in the UK, it was no surprise that there were close to a hundred boats lined up on the start line by Egypt Point just west of Cowes. The race took us to the Nab Tower, outside the Eastern Solent, and back again. The start saw us floating around trying to gain steerage in zephyrs of breeze whilst being grateful for the favourable tide nudging us in an easterly direction. The fickle breeze then became more established and a field of coloured spinnakers appeared all around us as we sailed downwind between the forts. With a line of cloud clearly visible in the sky and a dark patch of water beneath, the transition waiting for us was clear to see. The wind built and shifted, and we sailed upwind on starboard to the Nab Tower. A gybe around the mark and we had a tricky leg to a turning mark. It started as a jib reach, then changed to a Code 0. At about ten minutes before we were due to reach the mark, we sat discussing if we should make the change to spinnaker. This discussion lasted for the full ten minutes thereby negating the need to action the chat!
From there the wind built until we were tacking all the way to the finish line in a breeze reaching gusts of 22 knots. It was a race that provided all wind angles and a range of wind speeds that kept us on our toes. It pushed us to carry out new sail changes and we learnt from several mistakes we made. A 5th place finish was a happy result for only our third time out sailing together and our first race.
Buoyed by our success, we then signed up for the Drheam Cup in France. This race has three courses of varying lengths aiming for all boats to finish at a similar time and multiple classes. Ultimes race alongside one design Figaro's and IRC allow double handed and fully crewed, so it really does bring all the disciplines of our sport together and is a spectacle to behold.
The race set off from Cherbourg in relatively light conditions but a good sea breeze to clear us away from the French coast. We made our way across the English Channel to the South coast of the UK, using West Shambles as the turning mark. Mid channel saw us sail through a transition and we had committed to the west of the fleet and were worried that we had made too great a separation. We ended up getting to the mark in a new fresh 20+knot breeze, a strong spring tide and a dark night with no moon to speak of. This combination made rounding the mark feel chaotic, but we achieved it safely and set off to the west with a spinnaker up, making great progress in the solid breeze. The night required full concentration to maintain the boat speed and choose the best route along the coast. There was another transition between Plymouth and the Lizard before we picked up a new breeze from the north and sailed towards Wolf Rock. This rounding was in daylight and a much simpler affair! From that point it was VMG sailing overnight across the English Channel to a virtual waypoint keeping us clear of the traffic separation scheme at Ushant. We made good work of this leg and closed the gap with our competition, who had been ahead of us by 4 miles at the previous mark. We rounded in front of them as we started to head east again along the French coastline of Brittany towards La Trinite Sur Mer. There was one more transition to go but it was to be a frustrating one and resulted in us spending the afternoon trying to make it through the wind hole to decent breeze that would take us to the finish line. The reach gave very few options and the final rounding mark gave us an upwind leg to the finish line. Rounding the mark in a long line with our fellow competitors we made the decision to tack away to find clear air as it was the only option available to us to make a difference. Our three tacks to the others one tack was always going to be slower and as we finished at 2am in the dark on the transom of one boat and with another on our transom it was not obvious, at least to me, which way the results would fall.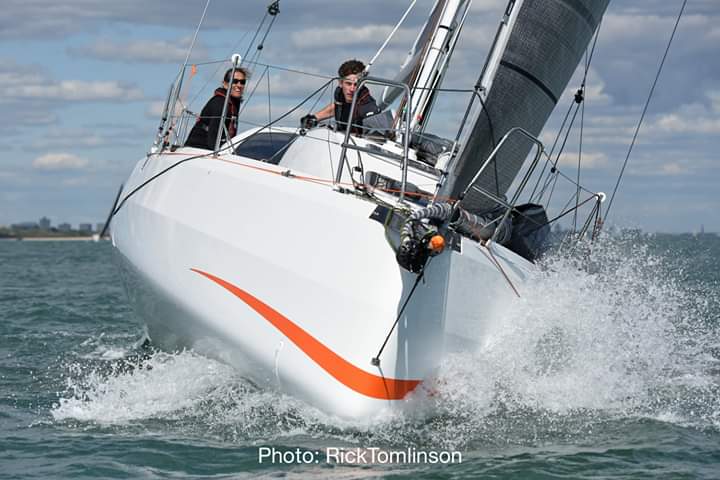 After 430 miles it was as close as it could be. We knew we had worked hard but had also made some errors. There is always room for improvement. We made our way into La Trinite, found a berth, put the boat to bed, showered and then put ourselves to bed. After a few hours of uninterrupted sleep, we woke up to discover we had secured second place in the double handed class and finished 8th overall in IRC. Being our (and the boats') first offshore race together we were pleased with our collective performance. Boosted by the results, we set off on the delivery home, enjoying lighter winds and slightly more relaxed sailing. We had a favourable current through the Chenal du Four and hoisted the spinnaker at the north west tip of France and didn't drop it again until we got to Calshot Spit in the Solent. A great downwind run home, mooring up in the Hamble in the dead of night – a tired, hungry, but very happy crew.
It appears there is no stopping us as this weekend we will compete in the RORC Race the Wight. With entries fees going to support the NHS Trust and Scaramouche Sailing Trust and more than 100 boats entered, we are really excited to be taking part in what should be a great day on the water.