Lady Liberty to Les Voiles des St Tropez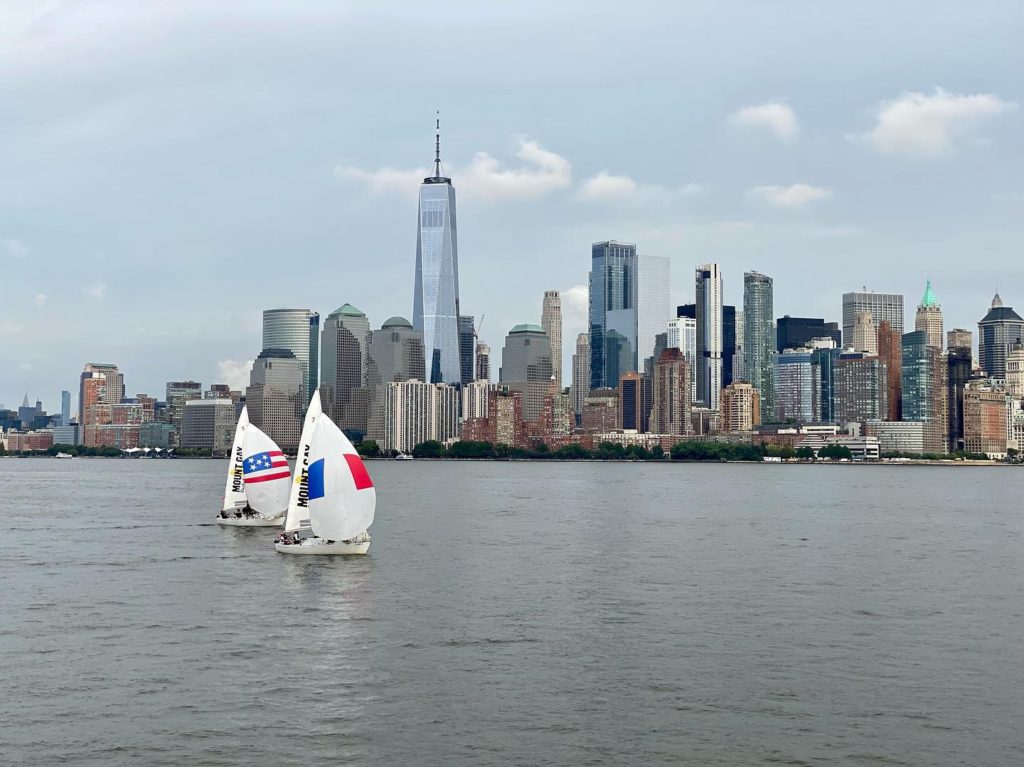 September has been a real treat; not only has it provided me with a great range of boats on which to sail and race, events have also taken me to some fabulous locations.
The month started with The Famous Project being invited to represent Team France at the International Lady Liberty Regatta hosted by the Manhattan Yacht Club. 12 teams representing 8 different countries raced a matched fleet of J24 sailing boats. The courses, set on the Hudson River, were windward leeward with Lady Liberty keeping an eye on us while we competed. The regatta comprised three races a day over three days and included a change of boats each race to ensure fairness.
The weather was tricky with light winds, strong tides and some very energetic thunder cells rolling through. We managed to take part in enough races to permit a discard, allowing us to remove our worst result. The front of the fleet were quite evenly matched with no one team dominating and producing different winners each race. The final result came down to the last race, which was an ambitious three laps of the course. We were pushed all the way by the other teams but held our nerve and were thrilled to secure the win and overall regatta victory for Team France. It was a great team effort by Marie Riou, Elodie Mettraux and me, led by Alexia Barrier. As well as being fun event, it also allowed us to continue practising our communication as a team on a different boat and in a different environment.
On my return from New York, I headed to a sunny Southampton International Boat Show to officially launch the new Jeanneau Sunfast 30OD yacht with Sea Ventures. This yacht is a collaboration between UNCL Yacht Club de France, Royal Ocean Racing Club, Jeanneau and Multiplast. This is the first production boat to use a product developed by Arkema that consists of recycled foam and elium thermoplastic resin, which is able to be broken down and used again. It's a high performance, fun and sustainable production boat. By being accessible to those with a lower budget, the aim is to provide access to offshore sailing through clubs and organisations who help young people race and train. I am certainly looking forward to putting this little pocket rocket through her paces and seeing how she performs.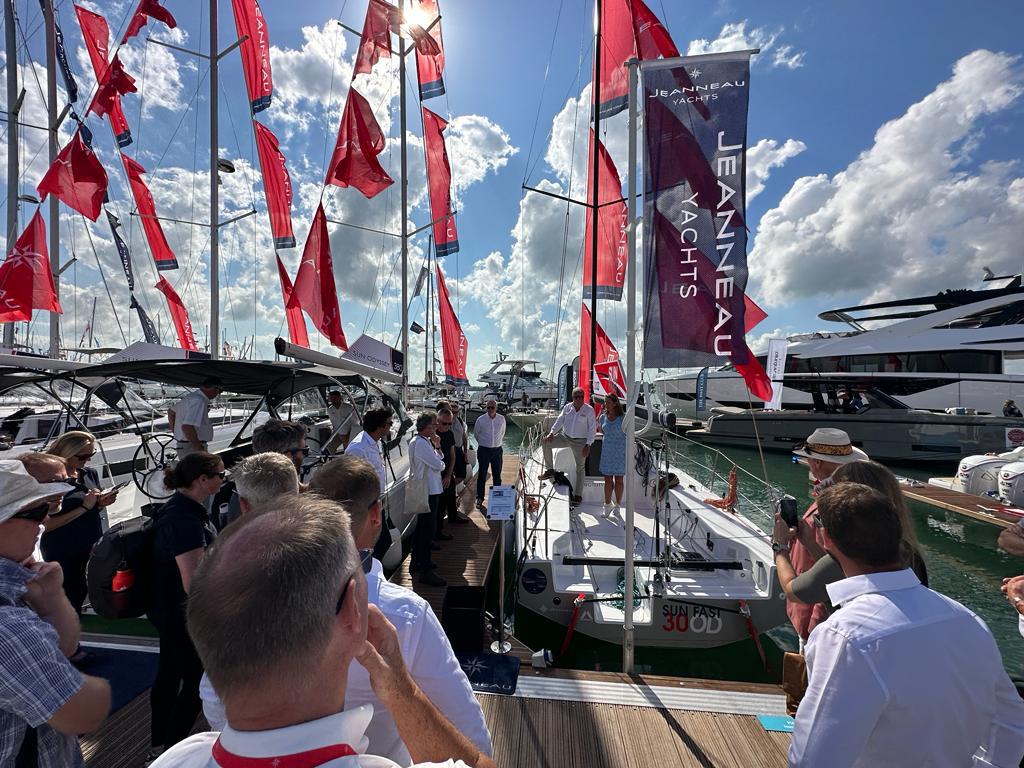 The following day I joined Rob Clark, Director of Sport Development with the RYA, to discuss their new initiative, 'Together on Water'. During the discussion I was able to use Sunsail as an example of a company who share the same ethos. With a location and budget to suit everyone, their sailing holidays provide a platform for access and education, allowing sailors and non-sailors alike to build confidence by engaging in amazing experiences on the water.
After the boat show I headed back to the classroom as I joined Alverstoke Junior School for a morning assembly to share news of the Famous Project. My aim was to encourage the children to dream big and demonstrate that everyone has the potential to achieve great things. The Famous Project sits well with the school's motto 'Be Ambitious, Be Brave, Be Kind' which is taught through EPIC Skills which are Evaluation, Perseverance, Independence and Creativity, Challenge, Co-operation and Collaboration. The school have followed my previous circumnavigations so I hope I have generated a bit of excitement for our upcoming world record attempt.
Having talked about the project it was great to head out to France to join the team again. We sailed from La Grand Motte to Marseilles and then on to St Tropez. Alexia Barrier, skipper and visionary of the project, filmed a TV show with well-known French journalist, Nathalie Simon, on the way. On arrival in St Tropez, we sailed with sponsors and guests as they enjoyed watching all the action from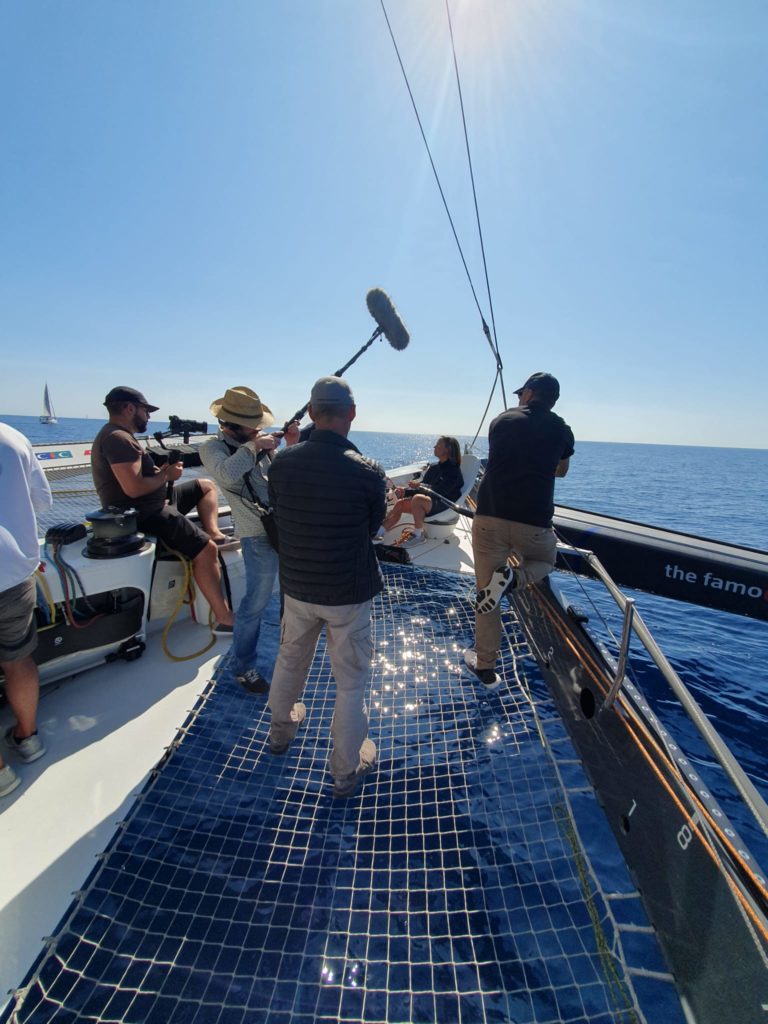 Les Voiles des St Tropez. We were very lucky with the weather as it was fair winds, flat seas and sunshine. All our guests were able to experience sailing our MOD 70, Limosa, and learn more about the project. We had a fantastic range of guests from non-sailors, experienced sailors, groups of young optimist sailors and even children from the centre of France who had never seen the sea before. It was a great opportunity for them to experience sailing a trimaran at 20 knots and they did an incredible job grinding and driving this huge machine. We enjoyed being able to share our project and bring smiles to so many faces.