Transpac Race onboard Oaxaca, Santa Cruz 50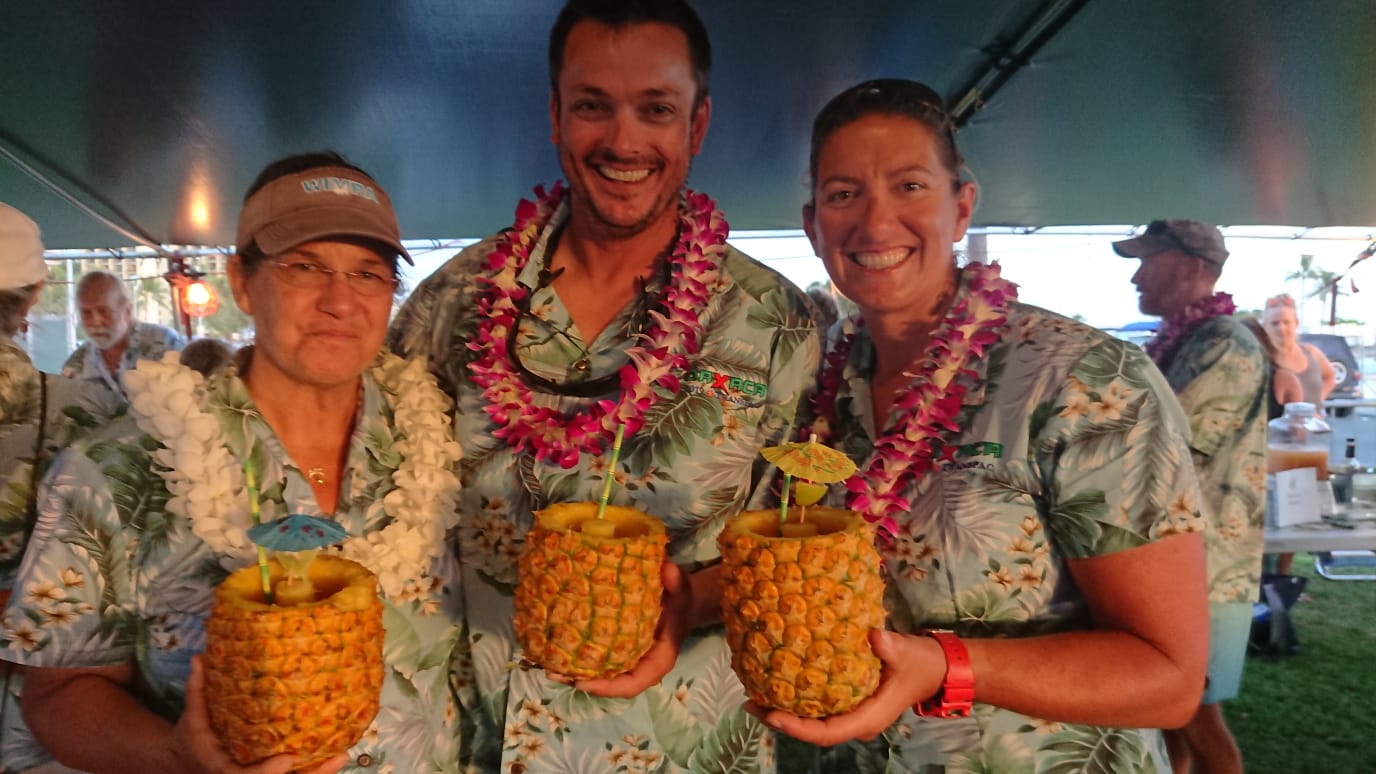 The start line on Friday 12th July was a busy one with many competitors scheduled to begin that day. There are three start days for various classes, each starting on a different day and the faster boats departing on the final start on Saturday 13th July. For us it was a poor start and we then sailed upwind round the North of Catalina Island avoiding the light winds at the tip. Then we cracked sheets and sailed a wider angle heading around 230°. Slowly the wind freed and we changed sails from a head sail to a reaching sail.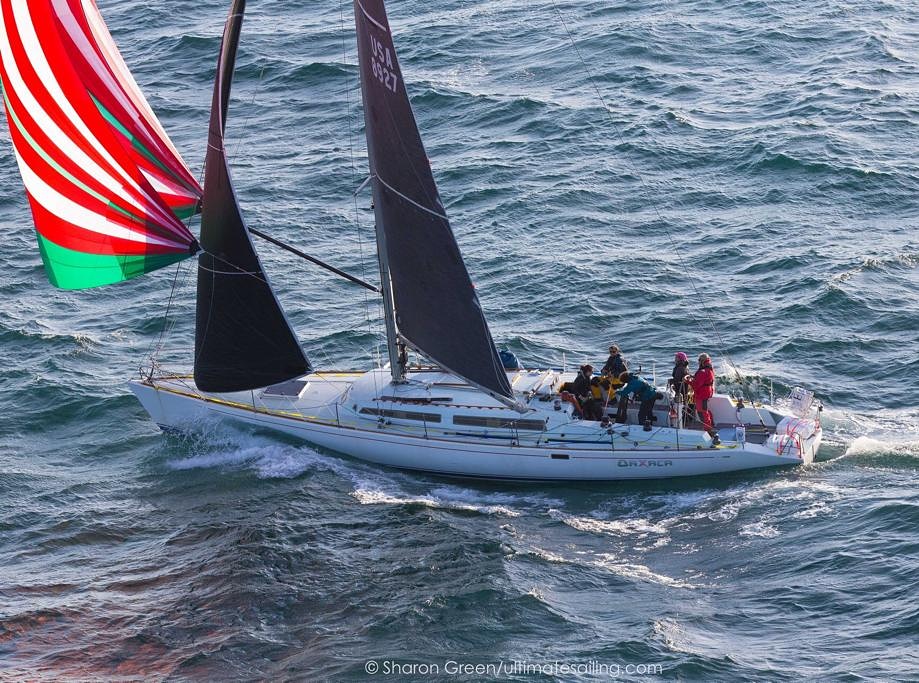 The wind slowly clocked round freeing us to allow a spinnaker in the early hours of the14th, with the A3 going up on a tight reach. We were freed by the wind again allowing us to add the genoa staysail before setting the A2 spinnaker and by lunchtime we were sailing more downwind with the slightly bigger spinnaker.
That night we were passed by Powerplay , a Mod 70, who were busy chasing Argo who were 80 miles ahead by this stage after their start on the 13th July. Comanche, the eventual Barn Door winners, passed us 10 miles to the north about four hours later.

The following day was real Transpac weather and this is what we had signed up for! Blue skies, sunshine, downwind sailing with a small surf developing and progress in the right direction. We were south of our fellow competitors in our class with Horizon just 10 miles ahead.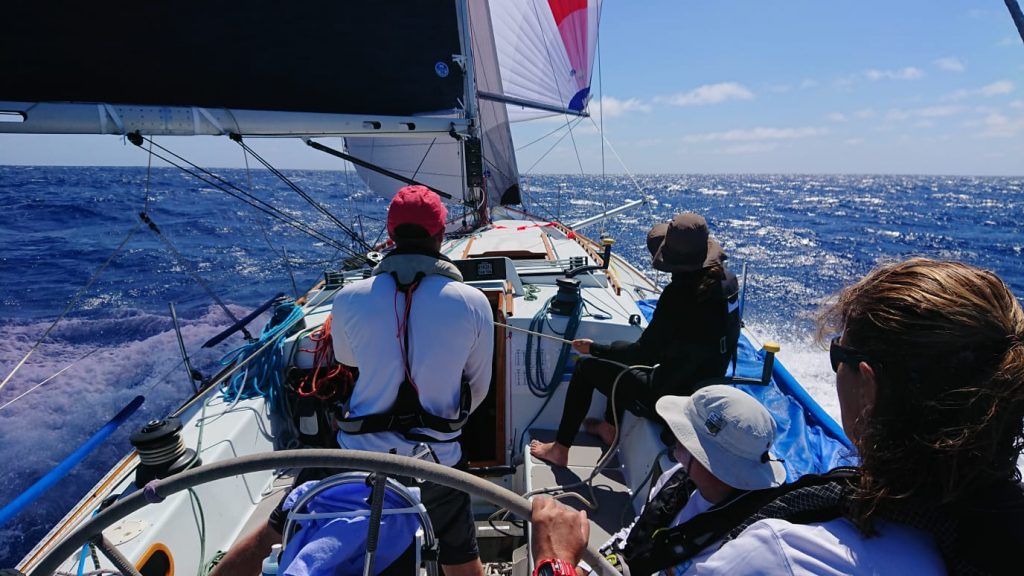 Getting back to the race and the wind had continued to clock, forcing us to sail deep downwind to avoid getting sucked north into the high pressure and lighter winds. We were really working hard on developing our low mode – sailing deep but remaining fast. Trying not to reach and not to wallow, the two extremes. We had another few days of this before the critical decision of when to gybe was taken by our navigator which would also coincide with some squally weather and showers. This made the decision harder than it should have been. The breeze built, so we peeled from our A2 spinnaker to the A4 as this was more stable in the 20 knots of breeze we were experiencing and kept our averages up. There were some waves to play on and we all sought a good surf, working drivers, trimmers and grinders in perfect synchronisation.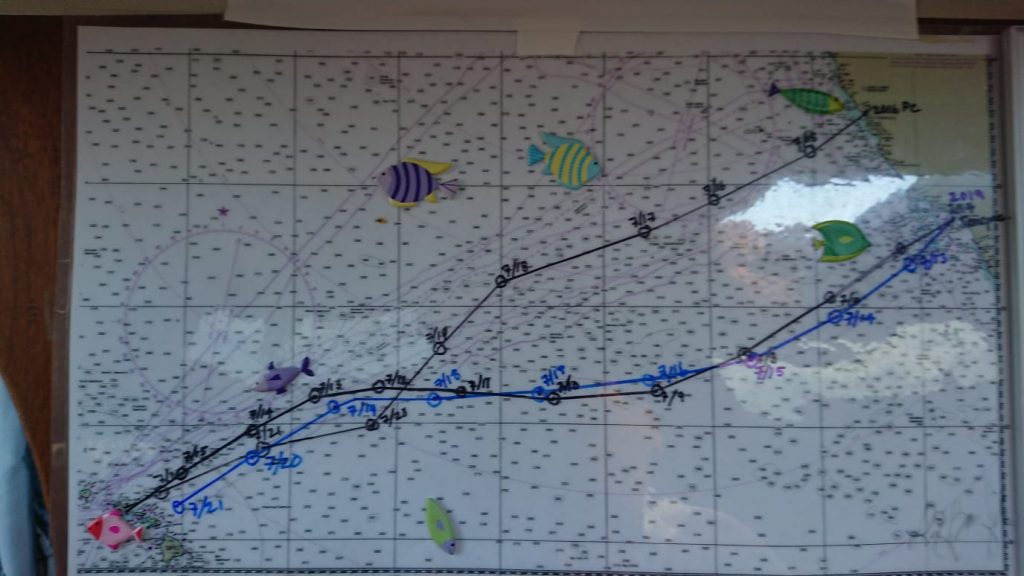 The halfway mark on Wednesday 17th coincided with Liz's birthday. Apart from a boat crossing in front of us about 15 miles away, we remained out on the ocean on our own, but we understood within a few miles of us were plenty of boats all doing the same thing. We spent the day sailing a fast vmg mode in decent pressure with a messy sea state. There were no real waves to gain any surfing benefit from, but we were trying as we wanted to catch the competition. This night was the first with some cloud activity, we had rain and misty conditions with some wind shifts. The clouds lifted on the approach and then had a small increase in velocity before getting back on course. We were lucky that the cloud activity was not that active.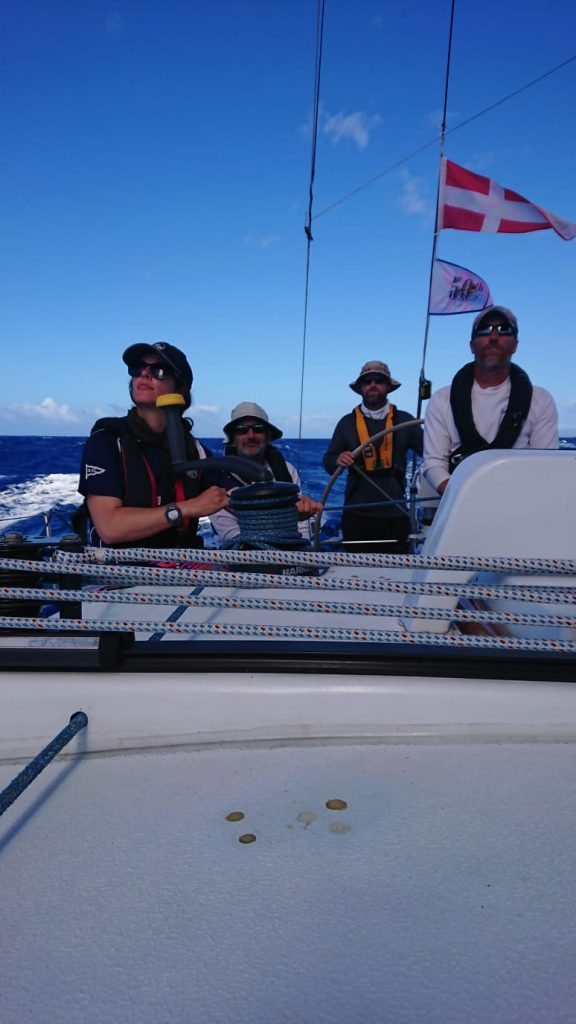 We also encountered not one but two magical moonbows overnight. In all my years sailing, this is not something I had ever seen before and a rainbow with the light from the full moon was an amazing and surreal sight. It was like looking at a black and white photograph of a daytime rainbow, very clear and spooky.

Thursday 18th saw more cloud activity which brought variable winds. We had a friend on the horizon in Triumph, a Santa Cruz 52, as they had gybed down to our line, but we continued to keep the lower mode going well. We had good pressure as we held onto our low but fast mode, taking us closer to Hawaii. Tonight, there was going to be a potential lift in the breeze to indicate to us it was time to gybe. Hair wash time to celebrate! The gybe eventually happened at 0400hrs on the 19th and we were into the approach to the Molokai channel with less distance than a Fastnet Race to go to the finish.

We changed to a lighter spinnaker at sunrise as we could see the clouds coming, not that many of the clouds actually had any grunt to them. An increase in pressure at lunchtime meant we changed back to the heavier kite. Then with some wind shifts we decided to gybe back to head west, waiting for a few hours, until we saw a breeze direction that favours the port gybe. The miles were dropping fast now and we are all keen to taste the arrival refreshments.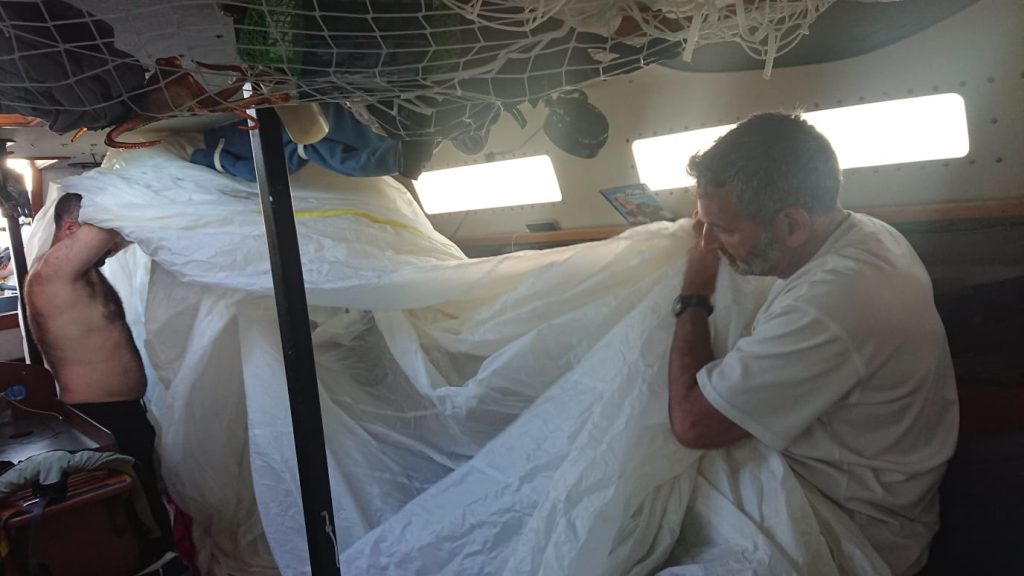 The breeze was super shifty around the clouds we had encountered, meaning we had to do a number of gybes to keep heading in the right direction. Those around us were all doing similar things as we waited the shift of the breeze to more of the east.

Saturday 20th was a rather overcast day with clouds and rain, changes in wind speed and shifts of various degrees. It was wet on deck and stuffy below decks with wet people and no hatches open. It made me think of my dog after a walk in the rain and the delightful wet dog aroma! The morning showers finally dissipated to reveal a beautiful sunny afternoon. More downwind sailing with variable strength breeze but consistently keeping us on a port gybe.

We were now approaching the final 200 miles when the tracker went live and we had worked our way into 2nd place. Our battle with Horizon was going to be tight and fierce and it would only take one bad gybe or missing one shift and it was going to be down to who wanted it more.

Our final night at sea saw us in pole position. We were now leading in our class but with less than 200 miles to go and tracking becoming live it was ours to lose. We were slowly gaining on our closest competitor Horizon.
We were treated to a spectacular show as we pushed to the finish with sunsets and in the two hours before the moon rose, we saw an exceptional sky. The milky way in plain sight with planets, stars and satellites. We even saw a globular cluster, not often seen by star gazers and only visible in certain parts of the world. We were lit by the moon as we sailed in a final race to the line off Diamond Head. In the early hours just before I was to be woken for my watch, a shout for all hands was made. The A2 spinnaker had decided it was tired and had taken itself down. We gathered the separate sections of the sail onboard and set a replacement A4 sail and were on our way again just 9 minutes later. The question was how much had we lost due to that incident against our rivals?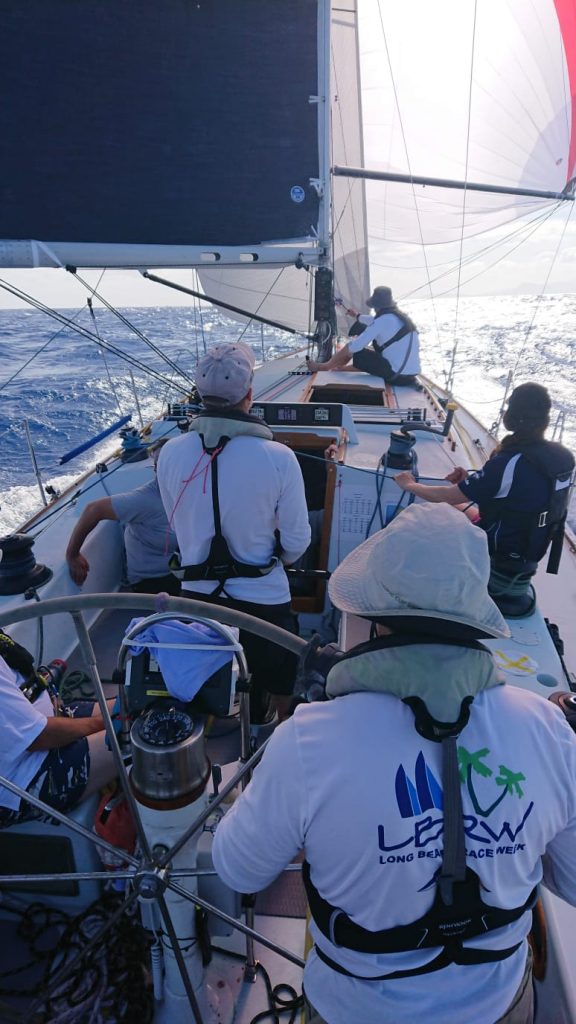 Our final push for this edition of the race and we were in the race for the podium positions. We were keeping pace with Horizon but we had taken our eye off Lucky Duck to the north of us who had been doing well. The risk now was that we could potentially fall from first place to third.

Land Ho! was called at about 1130hrs as the loom of Maui rose above the layer of cloud.
We were into the final 80 miles and the gybing duel commenced. We wanted to go at the same time our fellow competitors gybed. We did our first gybe to be met with two beak whales on our bow, which was a nice surprise. After a few gybes we settled into our approach to the finish line and from Molokai light, we had a straight run into the finish line off diamond head. I drove a great hour with wind up to 27 knots and the boat on rails sat at about 20 knots. The sun was shining, the sea was blue, the surf was worth playing with and the coast of Molokai was awesome. It was stunning with great sailing conditions and I drove with a big smile on my face. Our navigator, Liz, was making constant calculations and advised that it was going to come down to the final few minutes. Every surf, every wave and every puff counted.

Lucky Duck had finished and we are now racing the clock to steal first place against them and Horizon. We crossed the line at 17h43m13s local time on Sunday 21st July. On corrected time in our division we won by just under 12 minutes after 9 days and 2250 miles of sailing. We were absolutely blown away by how close our division was and how hard we worked to claim victory for us. A feather in the cap of Liz Baylis our navigator who played the long game and delivered. A huge thank you to the owners Michael Moradzedah and David Ritchie, who invited us to join the Oaxaca family and the fabulous crew who all worked so hard the whole way and made the trip a really fun and enjoyable race. Brett Dewire, my watch buddy, Patrick Lewis and Tom Paulling, my opposites. Molly Noble (nee Robinson) who entertained me no end with some classic comments. We laughed a lot! Last, but not least, Harry Spedding, sailing with me for a change. It was a pleasure to race with you all.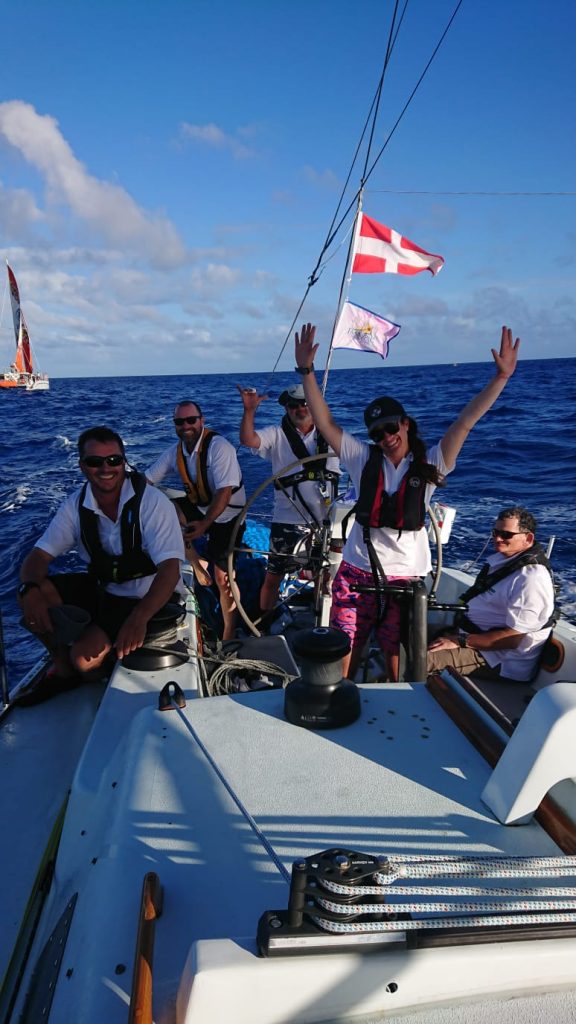 In terms of plastic en route, we saw netting, a bucket, a fishing pot and some styrofoam – a reminder that we continue to contaminate our oceans. However, it seemed like less rubbish pollution than I remember on the previous edition back in 2017. The Race organisation also confirmed less plastic being sighted but this is likely to be due to the position of the high pressure as the route is much further south than it was in the last edition in 2017, rather than any significant change in the level of plastic in the ocean. In addition to dolphins and flying fish, we did have the rare sight of a tuna fish jumping ahead of us but we saw less wildlife than we thought we would.
Aloha!