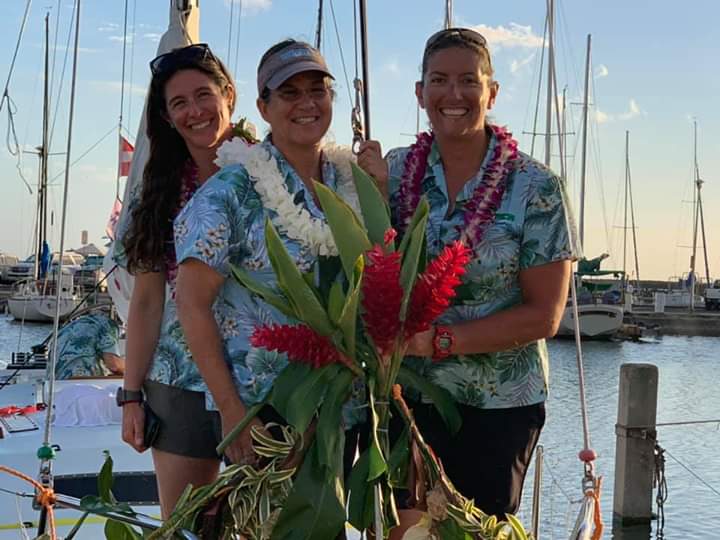 So July was mainly taken up sailing the Pacific from LA to Hawaii in the Transpac. You can check out my earlier race report blog for more detail but, suffice to say, it was a huge success with our team winning our division by 12 minutes and securing no less than four prizes at the awards ceremony. First in division, First Santa Cruz 50/52, Navigator prize for winning and the Team award.
Off the water, the focus has still very much been on sailing and I am proud to announce that the World Sailing Trust have now published a survey as part of the Women in Sailing Strategic Review. The aim of the review is to look at how gender diversity across the sport of sailing can be improved and will examine the disparities, explore why they exist and recommend what can be done to improve the balance.
The review will be a public document published on the World Sailing Trust's website and provide recommendations and actions for partners across the globe who are looking to be part of the change. However, the first step in the process is to undertake a survey, the results of which will reveal trends around gender diversity within sailing. I would encourage anyone involved in sailing at any level, male or female, amateur or professional, owner or crew, offshore or dinghies – to complete the survey. We want to gather views from across the whole community and every voice matters. The survey being hosted by Qualtrics, an SAP company, and can be completed here. Andrew Pindar OBE DL, a long-time supporter of women in sailing, is generously supporting the strategic review which is being led by Victoria Low. She and the team are keen to hear more from any individual with an interest in this area and you are invited to get in touch direct at Victoria.low@worldsailingtrust.org
The initial findings of the Strategic Review will be presented to World Sailing's stakeholders – Class Associations, Member National Authorities and Committee Members – at World Sailing's 2019 Annual Conference in Bermuda this October. Further insight will be delivered to the wider sailing and marine community at the Yacht Racing Forum in November.
Looking ahead to August back on the water, it is going to be an action packed month, beginning with the Rolex Fastnet Race on Saturday 3rd August followed by Cowes Week between 10th – 17th August. I will be joining the team of Aegir and racing in Class 0. You can listen to live commentary of the start of the Rolex Fastnet Race on Cowes Radio. Tune in to hear all the action live, as it happens on the water.