edition #04
Charitable Causes
Dee supports a variety of charitable causes – some in an official capacity as Patron or Ambassador and others on a more informal basis. So many charities these days wrap their fundraising around a sporting event or challenge and signing up to one or more of the activities on offer can be a great way to get involved, sometimes trying something new or meeting your own personal challenge in the process.
We thought we would highlight a few of the opportunities available around the country to see if we can tempt you...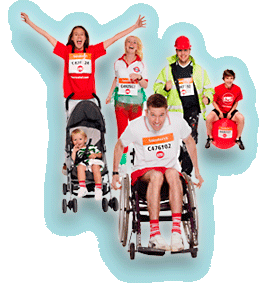 The Sport Relief Mile – Are you Mile Ready?
Dee will be starting the 1200hrs wave of the Southampton Mile on Sunday 21st March which will take in three of Southampton's parks along the course and looping around the Bargate Monument - so you'll have a fantastic day out while raising cash to change people's lives forever.
With the choice of 1, 3 or 6 Miles offering challenges to suit all ages and abilities, there is plenty of fun to be had at the Southampton Mile - so make sure you get your family, friends or workmates in on it too! And the best bit is, all the cash raised will help to transform the lives of poor and vulnerable people across the UK and in the world's poorest countries.
And you might even rub shoulders with some famous faces along the way – so what are you waiting for? Secure your place at the Southampton Mile at www.sportrelief.com and rise to the challenge to help change lives forever.
There are hundreds of 'Mile' events to choose from taking place all across the UK and remember, you can walk, jog or run!
RNLI - The Royal National Lifeboat Association
The RNLI is an independent charity which does not receive any funding from the UK government. They can't save lives at sea without public support.Lifeboats need to be designed, built, fuelled and maintained, and their crews trained and equipped. Lifeguards also need training and equipment. Dee will be taking part in the Lymington RNLI 10km Fun Run on Sunday 9th May – so maybe you fancy joining her to raise money for the charity?
There are a wealth of other events that support the RNLI each year. Check out www.rnli.org.uk/who_we_are/events
Toe in the Water
As an ambassador for Toe in the Water, Dee will be taking part in the Red Funnel Regatta in April this year. The tri-service initiative Toe In The Water (TITW) aims to inspire the men and women who have sustained often traumatic injuries, including the loss of limbs, to move beyond their disability and to become re-inspired by life. Competitive sailing is a physically and mentally challenging adventurous sport and provides a unique opportunity for injured men and women to sail and race on equal terms with their able-bodied contemporaries.
There are many ways you can help support the charity – to find out more, click here www.toeinthewater.org/get-involved
Cancer Research UK - Race for Life
For the last few years, Dee and a team of around 50 runners have entered the Southampton Race For Life in support of Cancer Research. This event has a fantastic atmosphere and an array of fancy dress costumes to entertain and amuse the crowds throughout the 5km course. The weather has always been kind in the past, so we are hoping the sun will shine down on us once again on Sunday 11th July.
Race for Life events are taking place all across the UK and you can choose your nearest event and raise money to help beat cancer by following this link www.raceforlife.org/choose-your-event