edition #09
Toe in the Water
Dee became an Ambassador for Toe in the Water last year after taking part in the Dartmouth Royal Regatta and will continue her support of the charity during Cowes Week, by taking part in the Artemis Challenge 2010, an annual IMOCA 60 sprint round the Isle of Wight. Attracting some of the biggest names in ocean racing, all competing for a generous £10,000 charity prize fund, Dee will be aiming not just to win the race but hopefully to add some coffers to the Toe in the Water pot as a result. Later in the week, ex servicemen and women who are currently being treated at Headley Court, the Defence Medical Rehabilitation Centre, will be welcomed aboard Dee's Open 60 so that they can experience the thrill of sailing on the very same yacht that finished in 6th place on the Vendee Globe in 2009, securing Dee her double world record.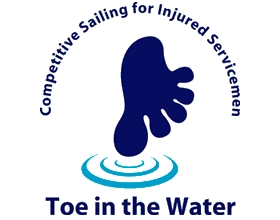 The tri-service initiative TOE IN THE WATER (TITW) aims to inspire the men and women who have sustained often traumatic injuries, including the loss of limbs, to move beyond their disability and to become re-inspired by life. Competitive sailing is a physically and mentally challenging adventurous sport and provides a unique opportunity for injured men and women to sail and race on equal terms with their able bodied contemporaries.
The main aims of the initiative are achieved by utilising volunteer racing sailors from all three services and the civilian community to sail alongside the injured servicemen in regattas that are held predominantly around the UK. Once again this year, Toe in the Water will be competing during Cowes Week on the Army's A40RC and two J80s.
For more information on Toe in the Water please visit www.toeinthewater.org or click here to view their video.
Dee talks below about her experience of sailing with the charity during the Dartmouth Royal Regatta last year.
"When I was offered a place to sail the Dartmouth Royal Regatta with the Toe in the Water Crew, I jumped at the chance. As the Bank holiday weekend drew closer I became a little nervous. The idea of 12 people onboard a 40 foot race yacht scared me, I have become used to having the boat to myself."
"In the nine years I have been sailing I am extremely lucky to have achieved a great deal. With the recognition of being the first woman to sail solo, non-stop around the world in both directions came the invitations to take on some superb challenges. Life is about opportunity and I try and grasp opportunities with both hands when they present themselves. The charity Toe in The Water is only just a year old and is growing in strength at an alarming rate. Their aim to re engage, re inspire and re integrate injured service personnel through competitive sailing is fabulous and now I have seen it first hand."
"The crew had a mixture of civilian and military sailors with a team of injured servicemen. I was new to the team and the boat and was immediately made to feel valued and involved. I was looking after the trim of the sails with two of the injured crew. On my own I am content that I have the skill set to be competitive in the single-handed arena, now I had the fun of transferring those skills into a determined team."
"Having our training day blown out with gale force winds we were straight into racing on Day One; after two practise tacks and two practise gybes with the spinnaker we hit the Start Line. A steady 12-knot wind provided great sailing conditions in the bay off Dartmouth and a windward – leeward course for both the morning and afternoon races focused our minds."
"Aware I did not know the boat or the set up, I was given constant communication flow about the trim of the sails and what works best. I then worked with my trimming team to become as proficient as possible. We were kept busy from beginning to end of race, there was no room for spectators onboard the Army Sailing Team's race boat, an A40RC called British Soldier."
"Exhausted but exhilarated we returned to Britannia Naval College for the de brief and clean up. This way we could continue to learn and improve and be ready for the next day. With military precision, the crew prepared the boat for day two of racing but we were disappointed to be returning to base without a race as the wind was gusting 40 knots and was too much for the regatta organisers. The third day blessed us with sunshine and fair winds and some great racing where we definitely improved on the water. Happy with the third day of sailing, I began to see changes in the injured crew. Confidence and conversation flowed and a desire to improve and get a better result was craved. In a short space of time these guys had been transformed. The buzz for me was the fact that I had been a small part of this transformation."
"The job the charity does is exceptional. The four injured guys with us were already asking about future events. They were asking about other sailing and other sports, displaying an increase in confidence levels. The core crew of the charity worked really hard behind the scenes. The physiotherapists and medics constantly review the goals set by the injured personnel making sure the scheme is contributing to their rehabilitation. I was a small contributor in a hugely successful event and I felt honoured to be there. My eyes were opened wide to what can be achieved with the right combination of people and the effect it can have."
"From a hesitant dip of my Toe in The Water I now have both feet fully immersed in the charity, believing that what it achieves is exceptional."