edition #05
IMOCA Open 60
Dee's IMOCA Open 60 yacht has been designed specifically for single handed round the world racing. The yacht is currently in refit in Spain ahead of the Barcelona World Race later this year. Refit involves taking the boat apart, servicing and/or replacing the main components and then putting the whole thing back together again.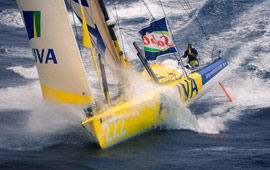 The Refit Process
It is truly amazing how quickly the boat comes apart, however, the time and effort comes with servicing and putting everything back together. The pressure for the shore team comes at the time of re assembling the boat as they need to be certain that this process is carried out correctly and in a way that will withstand the harsh environment of a round the world race. It is at this time we hope to avoid problems that may arise and therefore need solving during the race - costing Dee time and effort. Once the boat is back in one piece and launched again, we then have an inspection from the IMOCA measurer to ensure we conform to the rules set out by the class.
It is an ongoing process to prepare a boat for a round the world race and it is important all eventualities are thought of and complete trust is put into the shore team carrying out the process. After all -they are preparing the boat that will be looking after Dee's life!
IMOCA Open 60 Cutaway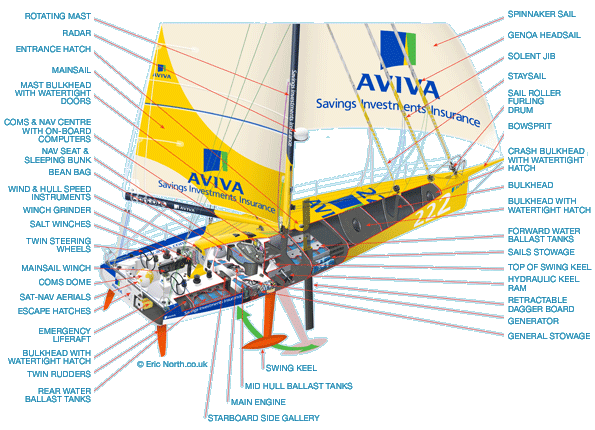 IMOCA Open 60 Vital Statistics

Length overall

20.1 metres / 66 feet (inc bowsprit)

Length on waterline

18.28 metres / 60 feet

Beam

5.57 metres / 18 feet, 3 inches

Draft

4.5 metres / 14 feet, 9 inches

Mast height from deck

27 metres / 88 feet, 6 inches

Sail area upwind

300 sq metres / 3,230 sq feet

Sail area downwind

580 sq metres / 6,245 sq feet

Designers

Owen Clarke Design LLP / Clay Oliver

Composite engineering

Gurit / SP Technologies Ltd

Build Project manager

Joff Brown – Joff Brown Limited

Builder

Hakes Marine Construction – Wellington, New Zealand

Construction

Carbon-fibre/honeycomb sandwich

Keel

Duplex stainless steel fabricated fin and lead bulb with hydraulic canting system

Keel canting rams

Two 70 tonne hydraulic rams by Cariboni

Daggerboards

Twin asymmetric carbon-fibre daggerboards

Rudders

Two carbon-fibre rudders

Bowsprit

Fixed carbon-fibre 1.82 metres bowsprit

Water ballast

Ten ballast & trim tanks

Mast

Carbon-fibre rotating mast by Southern Spars

Boom

Carbon-fibre by Southern Spars

Standing rigging

PBO by Future Fibres

Sails

3DL by North Sails – France

Engine

Lombardini 38 horsepower

Generator

Fisher Panda